Kickboxer Turns Sport into his Business
Curt's Ultimate Fitness and Fighting Arts
Mike Bivins | 10/1/2014, 3:50 p.m.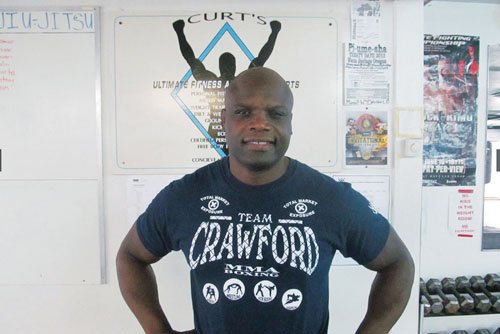 The first time I heard the name Curtis Crawford was in 2007. I was at my friend's house and we were watching the International Fight League. The IFL is a defunct mixed martial arts promotion which had a Portland-based team called the Wolfpack. They were not on this night. The Seattle Tiger Sharks were on this card and their heavyweight, a 41-year-old Curtis Crawford was fighting.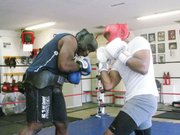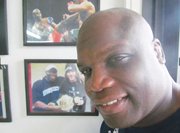 My buddy remarked that Crawford owned a small gym in the Gateway area. An interesting tidbit, but I was more interested in the fight. The 5'11 Crawford gave his much larger and younger opponent, 30- year-old and 6'2 Antoine Jaoude all he could handle. Never out of the fight, we were holding our breath waiting for Crawford to deliver a knockout—but the knockout never came, and Curt would go on to lose the fight by unanimous decision.
Northeast Halsey and 109th Avenue is not an area you would usually associate with greatness. This often forgotten part of town is a place you would never think a world champion once trained in. Curt's Ultimate Fitness and Fighting Arts is the former home to the late, great Ultimate Fighting Championship Middleweight Champion Evan Tanner. Tanner won his title in 2005 while under Crawford's tutelage. Crawford met Tanner while training at Gresham's Team Quest in the early 2000's where the two became friends, and when Crawford opened his gym in 2004, the friends teamed up, and the rest is history.
Although Tanner met his untimely demise in 2008, his fighting spirit lives on at Curt's, and I stopped into the gym to see how things were going. Two fighters, Anthony Barrera, 19, and Isaac Shelton, 26, were sparring in the ring. The heavily muscled Crawford looked younger and fitter than his now 48 years would lead you to believe. Although he has slimmed down from his normal fighting weight of 240 to 220 to help some of his smaller fighters train—he hasn't lost a step.
Curt excuses himself to spar with his fighters, but promises we will chat after. He asked me to help him put his gloves on, but I think I hindered more than helped as I fumbled with the straps.
Curt tells me that Barrera and Shelton are two of his top prospects today. Barrera, a 170 pound light heavyweight from Long Beach. Calif. moved to Portland two years ago and is coming off a triumphant debut at a USA Boxing event held at The Blitz in southeast Portland this past June. Shelton, a 145 pound mixed martial artist is coming off a dominating July win in Salem at Caged Wars where he submitted his opponent with a third round arm bar.
Boxing and mixed martial arts are not all Curt's has to offer. The gym is affiliated with Caveirinha Jiu-Jitsu and offers gi and no-gi Brazilian Jiu-Jitsu classes. Crawford, while primarily known as a kickboxing specialist and two-time amateur champion in 1984-85, is a purple belt and no slouch on the ground. He also offers personal training services, as well as access to free-weights and other miscellaneous workout equipment.
Curt's Ultimate is open to those of any level, athletic set or gender. During a co-ed class, the owner was constantly buzzing around to make sure his students were on task and absorbing the instruction for the technique, based on their skill level, assigned. The atmosphere was serious, yet welcoming, as Curt and his students could rarely be seen without a smile on their faces.
--Mike Bivins --