Aerial Picture from Drone of Jefferson's New Field
Community celebration prior to tonight's first home game
10/3/2014, 11:36 a.m.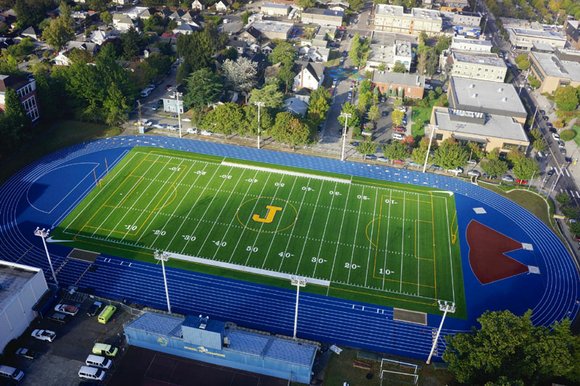 The Jefferson High School Democrats take on the Madison High School Senators in football on a beautiful, brand new field, Friday, October 3. Before the kick-off, Carole Smith and other leaders from Portland Public Schools (PPS), NIKE, and Jefferson High School will gather to celebrate and dedicate the new track and field, the ninth completed project of "The 10 Great Fields" endeavor.
The dedication ceremony will take place at 5:30 p.m. with a BBQ by Cannon's Rib Express and a mini festival with games and face painting for the community starting at 4:00 p.m. at Jefferson High School, located at 5210 N. Kerby Ave.
Celebrating together will be all who worked to create the new track and field, including Jefferson High School students, teachers, and staff; and business and community leaders. Distinguished alumni will also be present to celebrate including Heisman Trophy winner Terry Baker (Class of '59). There will be a fireworks display and appearance by SEI Drumline and SEI Youth Football prior to kick off with a Jefferson student Savana Carter singing the national anthem.
The Jefferson High renovation is the result of a community-wide effort to provide every Portland Public high school with new synthetic turf fields and tracks. The Ten Great Fields endeavor, also known as the "Places for Sport" project, began more than 10 years ago with a vision to ensure students and neighborhoods all across the city would have a safe and quality field and track to use all year around. It is a partnership between PPS, NIKE, the City of Portland, parents and community members.
Since the inception of The 10 Great Fields project, NIKE and its executives and employees have contributed approximately $2 million to the project. In addition, NIKE is supporting the dedication with t-shirts, signage and festive activities for the Jefferson High School community.

"Ten years ago, representatives from Nike, PPS, school communities, and city leaders teamed up and committed to an ambitious game plan: To build 10 beautiful new fields for all of Portland Public High Schools. It was first down and 10 fields to go," said Julia Brim-Edwards, Sr. Director, Global Government and Public Affairs at NIKE. "With the dedication of the Jefferson High School field, we have completed nine of these fields. We have just one to go. Now more than 48,000 PPS students throughout the district have access to a high quality field to play and compete on." Brim-Edwards who served on the PPS school board from 2000 to 2004 has been a leader in the project since its inception.
Since 2002, Portland Public Schools, along with Lincoln, Cleveland, Roosevelt, Benson (Buckman Field), Madison, Grant, Wilson and now Jefferson high school communities have diligently raised money to install new fields. Other schools receiving new fields and/or tracks this fall are Wilson, Madison and Marshall (to be used by Franklin during the bond rebuild of its school). Franklin High School's new track and field, the tenth of the Ten Great Fields project, will be completed in 2017, as part of the voter approved 2012 school improvement bond.