Cultural Advocate Meets Obama
10/22/2014, 4:37 p.m.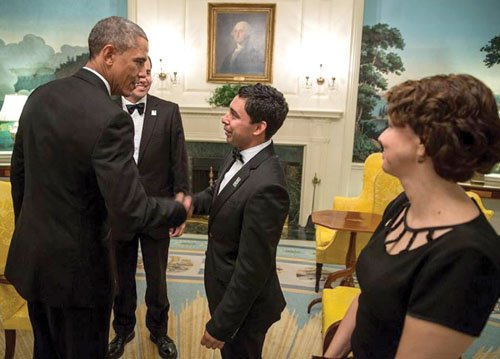 Portland Community College is reporting about a big hand shake one of its alums got at the White House.
Victor Mena, a former student leader on the PCC Rock Creek Campus and an equity ambassador for the campus' Multicultural Center, met with President Barack Obama last week to discuss immigration reform. He was one of two representatives from a Washington, D.C.-based Hispanic lobby group to be invited to the White House to talk to the President and his staff about immigration issues.
According to Mandy Ellertson, his former leadership coordinator at PCC, Mena was selected for the visit because of the advocacy work he did in Oregon for tuition equity and the Dream Act while a student at PCC and Portland State University.
Following his meeting with the President Obama, he was invited to ride in the president's limousine from the White House to the Washington, D.C. Convention Center, and Obama told him that Oregon was his fifth favorite state, officials said.