Black History Project
Public encouraged to send more data
10/30/2014, 11:59 a.m.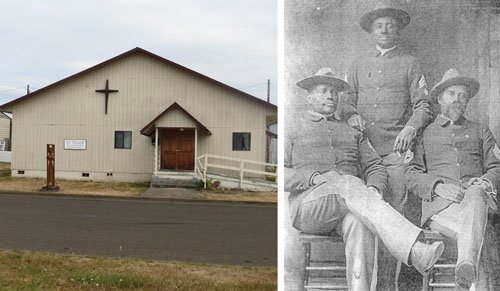 A project to identify Oregon's African American historic sites and places has uncovered additional locations in Eugene, La Grande, Corvallis, Portland and other communities. Project leaders are asking the public to continue submitting information about potential sites.
"These places can be buildings anywhere in Oregon where African Americans worked, sites where important events happened, or objects created, installed, or inspired by African Americans," said project manager Kim S. Moreland.
The Oregon Black Pioneers, in partnership with the State Historic Preservation Office, launched the property survey project "Preserving Oregon's African American Historic Places" in May. Working with community partners and volunteers, the organizations want to protect and preserve Oregon's African American historic sites and places from 1844 to 1984.
Committee partner Gwendolyn Trice, founder of Maxville Heritage Interpretive Center in Eastern Oregon, said that even rural counties have significant undocumented structures, places and cemeteries that translate rich African American community architectures into historic record.
The Preserving Oregon African American Historic Places project is a crowd-sourced project that encourages the public to contribute information online that pertains to existing structures with any African American association in their histories and cemeteries with African American burials.
"It is important to note that the data submission can include properties associated with the post-war period from the 1950 to the early 80s," said Kuri Gill, outreach and grants coordinator for the State Historic Preservation office.
Recent documentations include the historic St. Mark CME Church in Eugene and the 1915 Portland home of retired buffalo soldier Sgt. Alfred J. Franklin and his wife, Cora. Additional data was received on the office building located at 2337 N. William Ave., which was formerly occupied by Dr. John Marshall, one of Portland's early black medical doctors.
The deadline for submissions has been extended to Dec. 31. You may submit your information online at makeoregonhistory.com or at oregonblackpioneers.org. Provide as much information as you can, but it is okay to leave blanks if you do not know the particular information requested. Go to www.makeoregonhistory.com to submit online.
"Our ultimate goal is to create a multiple property document that identifies sites for nomination to the National Register of Historic Places," said Moreland.
If you have any questions about the survey project you may email Moreland at historic_places@qwestoffice.net or Kuri Gill at Kuri.Gill@oregon.gov.