Ferguson is a Critical Reminder for All Cities
Trust is a perishable commodity
Michael Reese | 9/3/2014, 9:39 a.m.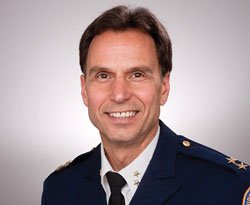 As we watch the tragic events in Ferguson unfold, there are some powerful themes that have come to the forefront and have emerged as critical reminders for all cities and law enforcement agencies across America.
The importance of building greater trust between police officers and the people we serve is paramount; particularly among those communities whose relationship and history with the Police Bureau has sometimes been strained. Trust is a perishable commodity; it's something we must work on every day.
At the Portland Police Bureau, we have had a lot of conversations recently about building legitimacy for the work we do in protecting the public. These unfortunate circumstances in Missouri help make clear to me, and hopefully to everyone in our community, that creating a police-community relationship built on trust is our most important obligation.
A law enforcement agency must mirror the community in which it serves. In Portland, we continue to increase diversity as we hire new police officers. We are committed to building strong partnerships with community members and agencies that assist us in serving and protecting the people of Portland.
Police use of force and the policies and training that accompany it need to be continually reviewed and improved upon. The Portland Police Bureau has made significant changes to our use of force policies and training aimed at reducing use of force and improving de-escalation tactics. Our use of force numbers have declined over the last four years, and all uses of physical force are investigated by a supervisor. Citizen complaints also have decreased.
Finally, communication, including listening, remains the key to better understanding. When we have an officer-involved shooting or high-profile incident, we are committed to transparency.
There is no daylight between our values as an organization and the values and expectations the community has for their police officers. This is important to all of us. Our Portland Police Officers go out every day committed to doing their very best to serve and protect our community. As an agency, we pledge to continue to develop and enhance our services to match our community's expectations.
Michael Reese is Portland's Chief of Police.