School gets a Jump Start
As kids return to the classroom, Rosa Parks already in full swing
| 9/3/2014, 9:56 a.m.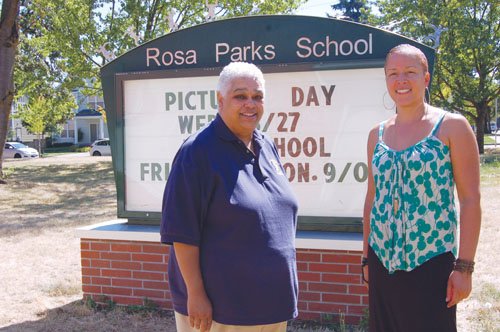 The end of the Labor Day weekend meant that Tuesday was first day of school for most children in Portland but not at Rosa Parks Elementary.
Classes have been in full swing for 400 pupils of the north Portland school where a pilot "Year Round Balanced Calendar" began in July. Instead of long summer vacations of the past, Rosa Parks's students will continue on a year-long schedule that puts them in the classroom for 9 week segments sandwiched with 3 week long breaks.
The Portland Observer sat down with Rosa Parks Principal Tamala Newsome and Assistant Principal Reiko Williams to discuss how the new programming is going so far.
Past the normal anxiety that usually comes with starting something new, Newsome says that since kicking off their unique school year, students, staff and parents alike have adjusted well.
"We can already see the positive effects moving to a year-round balance calendar are having on our students," she said.
The switch comes after testing several years ago showed more than half of the kindergarten through 5th grade students at Rosa Parks underperforming in the subjects of reading and math. In an effort to address those academic shortfalls, the school leadership at Rosa Parks and the Portland School Board signed off on the calendar change.
Newsome says it's primarily about providing more resources for learning. Where it would take four to six weeks for many students to re-learn information they had lost because of the gap of summer vacation, the hope here is that replacing that down time with class time, kids will have a better shot at success.
Rosa Parks is currently the district's newest school and one of the most culturally diverse. It's also serves a high population of lower income families, with 96 percent of the children enrolled taking advantage of free and reduced lunch.
Living at or below the poverty line can prove a barrier in the world of academia. Despite this fact, the principal says such 'barriers' shouldn't serve as a "marker of a student's ability to succeed."
"Kids want to be engaged," says Newsome.
It took a bit of a roundup to get all of Rosa Parks's students back in school for summer classes. Newsome admits that some kids did in fact ditch the classroom in the opening days of the new school year to instead head to the basketball courts, or hang around the Boys and Girls Club right next door to Rosa Parks' campus in the New Columbia neighborhood.
"Once you play for a while […] that gets old quick. They're ready to have a little bit more structure now," she says.
The first parent-teacher conferences just wrapped up and the first official vacation break for Rosa Parks will come Sept. 19. Even then, plans call for giving extra, individualized attention to students that faculty identify as needing more help. Calling it 'intervention' kids struggling in the grade department will be seeing their teacher for one week of the 3 week break.
Williams, who has been at Rosa Parks for two years now, is pleased with an increase in the number of parents and grandparents who have been eager to assist in the classroom. Currently, the volunteer registry database is nearing 40 with more becoming regulars, she said.
"We don't do this by ourselves," says Williams, "We need the parents to be successful."
Principal Newsome says even her current assistant is a parent who had come to the school regularly to volunteer her efforts.
Named a "priority school" by the district, essentially meaning Rosa Parks was in grave need of extra assistance, Newsome says her staff intends to trade that title in favor of academic excellence.
As for the program's success, Newsome says while the "numbers will tell the story, " teachers will be especially vigilant on staying on top of things with their monthly student reviews and meetings amongst staff looking over strategies around community and parent engagement.
All of this, the principal says because, "We have to do right by our kids."
--Donovan M. Smith