Look Out for Kids!
Crosswalk enforcement for back-to-school safety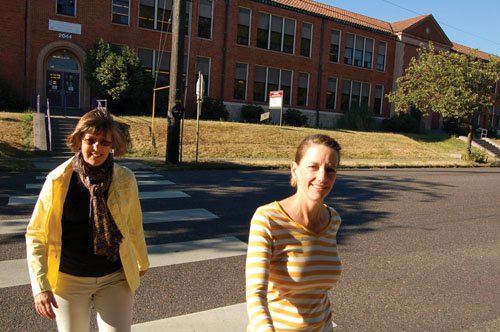 The Portland Bureau of Transportation and Portland Police Bureau are raising awareness of pedestrian safety and Oregon traffic laws as kids go back to school from summer break.
Transportation Director Leah Treat and staff member Sharon White served as designated pedestrians crossing the street at Vernon Elementary School in northeast Portland Friday, one of several crosswalk enforcement actions across the city in recent days.
The crossing near the front entrance of the school on Northeast Killingsworth is heavily used by families walking or biking to school and to Alberta Park. The traffic safety mission started at 7:30 a.m. and by 9 a.m., police had issued 10 citations 8 warnings, official said.
"With the start of school, it's more important than ever for everyone to look out for children crossing our streets," Treat said. "As a mother of four, I know how important it is for people to slow down when driving near schools. As transportation director, I'm proud of our partnership with police, schools and neighborhoods to spread the word about traffic safety."
In addition, transportation and police bureau officials offer these safety tips: If you're driving, obey the 20 mph speed limit in school zones; be vigilant and courteous to children crossing the street; and if you're a parent, consider walking or biking to school with your students where possible to reduce congestion, improve safety and provide young people with needed physical activity.
Each crosswalk enforcement action involves a designated pedestrian crossing at a marked or unmarked crosswalk while police monitor how motorists, bicyclists and pedestrians adhere to traffic safety laws. Drivers who fail to stop for pedestrians in the crosswalk and pedestrians who fail to follow Oregon traffic laws can be issued a warning or citation.