Forum on Racial Disparities Law
Mechanics of law goes before the public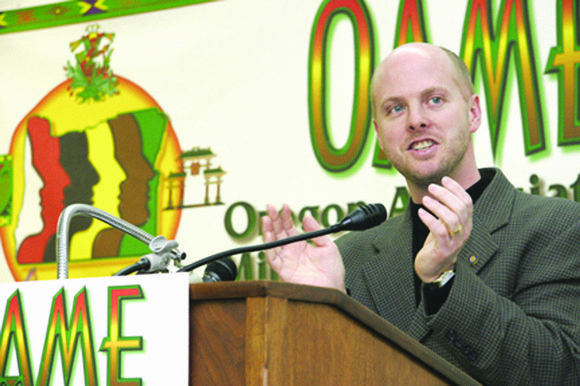 A forum was held in Salem Tuesday aimed at educating lawmakers and members of the public about a new law that can delay and possibly prevent future legislation that causes racial disparities in our criminal justice and child welfare systems.
The Oregon Legislature passed racial impact legislation in the 2013 session as a relatively new tool to estimate the impacts of proposed child welfare and criminal sentencing legislation on people of color. It works in the say way that fiscal impact statements describe budgetary effects, or environmental impact statements assess ecological impacts.
The bill sponsored by Sen. Chip Shields, a Democrat representing north and northeast Portland and Sen. Jackie Winters, a Republican and African-American lawmaker representing Salem, won broad bipartisan support.
"What's most important is for the community to know that this tool is here," Shields said. "We were only one of two states that had the guts to pass this."
Shields said lawmakers on both sides of the isle agree that there are disparate racial impacts of criminal and child welfare policies. African Americans, for example, make up about 2 percent of Oregon's general population, but about 10 percent of the state's prison population. Nationally, black males are more likely to be imprisoned than receive a 4-year college degree.
He said the law gained traction toward passage when provisions were added to reflect the racial impact of victim populations, and provide a requirement that racial impact statements only move forward when requested by two legislators from each major political party.
The first purpose of the legislation, however, is to put the brakes on any future law that disproportionately impact people of color.
"The bill passionately says this is another tool to make sure we don't make minority over-representation worse," Shields said. "If you hear about a bill that will disproportionately impact people of color, you can always petition your legislator for a racial impact statement."
The speakers scheduled to address the issues at Tuesday's forum included Craig Prins form the Oregon Criminal Justice Commission and Nicole Porter from the Sentencing Project, a national organization working toward sentencing reform.