Misfits and Hidden Gifts
'A Wrinkle in Time' invites self-acceptance and discovery
Best of all, because I had not recalled much beyond that this particular book had meant much to me as a child, the production set me on a search for what had appealed to me then. The obvious answer -- and the one reached for by so many critics -- is that the story makes a hero of an awkward adolescent, and sets her on a voyage of self-acceptance and discovery of her hidden gifts. That is, of course, true. I indeed felt myself awkward and ugly and a lonely misfit, like so many children, and must have connected to the hope that I too might possess hidden gifts.
But there is so much more here. This is a story of the power of outsiders. The three main children are staked at various points on the spectrum of outsiders -- the social misfit, the misunderstood genius, and the person whose capacity to blend in comes at the expense of his essential self, who then remains imprisoned in loneliness. This story profoundly illustrates the pressures most humans feel to conform to norms that squash the deep truths of their being, and how it is that outsiders make the best containers for the most challenging truths. Reflecting on my own experience of childhood and my current experience of adulthood as I watched this story gave me a balanced set of reasons to weep--at how this story must have resounded for me then and how it encourages me now. And that is reason enough to restage this inspiring bit of theater.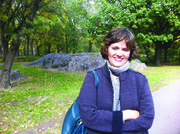 Darleen Ortega is a judge on the Oregon Court of Appeals and the first woman of color to serve in that capacity. She also serves on the Oregon Shakespeare Festival board. Her movie review column Opinionated Judge appears regularly in The Portland Observer. You can find her movie blog at opinionatedjudge.blogspot.com.