A Nice Place to Visit
Short term rentals another blow to housing affordability and access
Colin Staub | 9/24/2014, 10:55 a.m.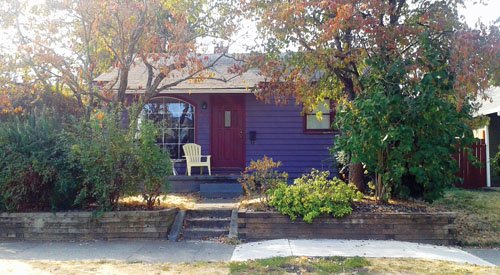 As Portland gains prominence on a national scale it is increasingly becoming a destination for tourists and vacationers. People visit our neighborhoods, take in the sights, and see what life is like in America's hippest city.
Unfortunately, aspects of this very process can threaten affordable life in Portland, as short-term vacation rentals begin to drive up housing prices and lessen the supply of available traditional rentals.
A growing number of homeowners are renting out one or two bedrooms, and sometimes an entire house, for a nightly rate. There are around 1,600 short-term Portland rentals advertised on Airbnb, the foremost short-term listing website. Three years ago, there were only 107 listings.
In the King Neighborhood of northeast Portland alone, there are 71 listings, 35 of them advertising entire houses available for rent short-term.
During this entire period of growth, the practice has been in violation of zoning laws. But this month marks the beginning of a change.
The Portland City Council passed amendments to zoning regulations this summer, which, as of September, allow homeowners to legally rent out rooms on a short-term basis. Previously, it was allowed through a conditional use permit. According to city data, in the past 10 years only 24 rentals have been approved through conditional use, suggesting that virtually all the Airbnb listings have been illegally rented.
The new rules create a new designation for these short-term rentals, and a faster, cheaper process for obtaining a permit. The permit to rent one or two rooms costs about $180, and takes 1-2 weeks to process. In addition, there are more requirements of homeowner landlords in an attempt to address a number of neighborhood complaints about the issue.
During public testimony on July 23, the City Council heard from residents upset about the negative effects that have come from properties where an entire house is rented out, and the homeowner lives elsewhere. This has led to noise problems, trash piling up, and a general negative impact on the neighborhood character.
To address these issues, the new permit applies only to one- and two-bedroom rentals. Renting out anything larger still requires a conditional use permit, which costs $4,130 and takes 8-10 weeks to process. In addition, homeowners of all short-term rentals are now required to reside at the property for at least 270 days per year, preventing a complete absentee-landlord situation.
A wider issue surrounding vacation rentals is the impact on Portland's affordable housing market.
"As owners turn the diminishing stock of affordable units into short term rentals, the housing market becomes smaller and more homogeneous, and the diversity that most people enjoy about living or working in the inner city diminishes as well," said Jordan Davis, homeownership specialist at Portland Community Reinvestment Initiatives, and housing advocate with the Northeast Coalition of Neighborhoods.
"Once a certain demographic of people with the privilege to travel start frequenting a specific neighborhood it attracts the attention of outside investment, which sounds like an ideal situation. However, most of the incoming services or residents are not intended for those already living there but for those who have money to spend in boutiques or trendy restaurants. The result is the neighborhood gentrifies and begins displacing long term residents," Davis said.