In Loving Memory
Kevin B. White
4/7/2015, 11:53 a.m.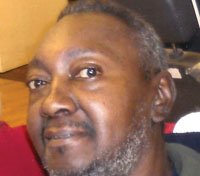 Kevin B. White was born March 13, 1954, and died April 2, 2015. He was preceded in death by his brother Vastine White Jr. (Pete), father Vastine White Sr., mother Mozell White, his beautiful wife of 27 years, Barbara Elaine White, and brother Terry Thornton.
Survivors include his son Ronald Harris of Portland; three grandsons Martae, Shyheim and Oshae Harris; a granddaughter Lakeisha Harris; a great-granddaughter Layla Harris; a brother Kenneth White of Portland; sisters Cynthia Lambert (Stan Lambert) of Portland, and Pamela Brooks of Dallas, Texas; nephews Rickey White (Shammy White) of Dallas, Robert Lambert Jr. (Lopaka), Anthony Austin, and Jerry Prentice of Portland; nieces Vastina Theresa White, Juanita Prentice, Myzell Lambert, and Lakindra Jones White of Portland, Clover and Aris Brooks of Dallas, and a host of other family and friends.
Home Going services are scheduled for Wednesday April 8 at 11 a.m. at New Freedom Assembly Church of God in Christ, 936 N.E. Beech St. Grammy award winner and gospel artist Douglas Miller of Akron Ohio will be performing a musical tribute as well as some of Portland's gospel greats. Those who knew and loved Kevin are welcome to attend. A repast will follow from 3 p.m. to 6 p.m. at Billy Webb Elks Lodge, 6 N. Tillamook St. Interment will be at River View Cemetery.