In Loving Memory
Willie Thomas
4/7/2015, 3:03 p.m.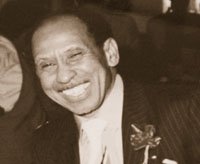 Willie Thomas, 82, passed away peacefully on April 1, 2015 at home with family surrounding his bedside. He was born Nov. 7, 1932 in Akron, Ala., and grew up in Tuscaloosa, Ala. He was the second oldest of 15 children.
Following high school, he moved to Portland for better employment opportunities. In 1954, he enlisted in the U.S. Army and following an honorable discharge, worked at the Portland Airport and later for the U. S. Postal Service, retiring after 29 dedicated years in 1989.

In 1957, Willie met the joy and love of his life, Pearl Mitchell and they were joined in holy matrimony in 1958. He was a devoted husband of 56 years, a father, grandfather, brother and also a friend to many. He will long be remembered as a warm, kind and caring man with a strong work ethic. Some of the precious memories include "Little Willie" thoroughly enjoying a good game of either dominoes or running a "Boston" while playing Bid Whist at the card table!
He is survived by his loving wife, Pearl; their two sons, Willie Thomas and Jerry Thomas (Jolene); a grandson, Andre; two granddaughters, Jenelle Simpson (Charles) of Las Vegas and Natasha Thomas of Atlanta, Ga.; a great-granddaughter, Niyah Brown of Las Vegas; a great-grandson, Avery Thomas; Wilfred Smothers Sr., of Destrehan, La., who was like another son, beloved mother-in-law, Pearl Mashia; the extended Mashia family; the extended Bell family: brothers, Rufus Hicks (Cherrelle), James Hicks (Brenda), Charles Hicks, Luke Hicks; sisters, Mary Thomas, Pearlie Hicks, Betty Lou Richardson, Lillie Mae Croom (Henry), Ola Bee Croom (Hillary) and Joyce Ann Hicks; aunt, Sue Lee Moore (Joe). With the exception of Pearlie Hicks, who lives in Detroit, Mich., all of the siblings live in Indianapolis, Ind.
Preceding him in death were his mother Nicie Bragg Thomas Hicks and father James Thomas; brothers, Clarence Thomas and Woodie Hicks; and sisters, Bettsie Mae Washington, and Linda Hicks. He also leaves to cherish his memory a large host of other relatives and friends.
A Home Going Celebration will be held on Monday, April 13 at 10 a.m. at New Hope Missionary Baptist Church, 3725 N Gantenbein Ave. Committal follows at Willamette National Cemetery. Viewing is scheduled for Friday, April 10 and Saturday, April 11 from 10 a.m. to 4 p.m. at Rose City Funeral Home, 5625 N.E. Fremont.