Something for Everyone
Oregon Shakespeare Festival's diverse new season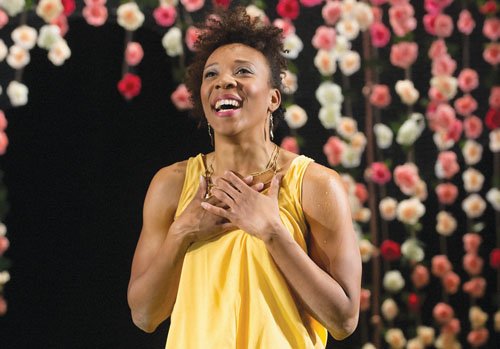 There's something for everyone at the Oregon Shakespeare Festival, year in and year out. It's always worth a trip down to Ashland, for the high quality of the productions, and also because the plays themselves are so thoughtfully selected, produced, and cast to bring a variety of voices and cultures to the stage. I've seen four of this year's shows so far, and this season is no exception.
Even if you don't think you like Shakespeare -- and of course if you do -- this season's production of "Much Ado About Nothing" contains many delights. Shakespeare's comedy contrasts an older, mismatched pair, Benedick and Beatrice, with a younger pair of innocents; the shallowness of the younger pair's infatuation makes them vulnerable to the machinations of someone who wishes them harm, while the older couple's spark ignites from the differences that first repel and then attract them.
The best thing about this production are Benedick and Beatrice themselves, beautifully played by Danforth Comins and Christiana Clark. Their differences in culture and physicality deepen the delight of watching them spar and then fall in love, even while neither they nor we would put them together. The play's director, Liliana Blain-Cruz, packs the play with perhaps too many ideas (I didn't feel, for example, that casting the angry and villainous Don John as a disabled female soldier carried much impact), but overall it is a pleasure to watch this very diverse cast savor such rich material. And Rex Young's comic turn as Dogberry, the self-important enforcer of order in the second act, flanked by a sidekick who has been turned into his mother in this production (Eileen DeSandre), is genius.
I'm no big fan of musicals, but if you can't enjoy this season's production of "Guys and Dolls," there's really no helping you. The production is set in the particular time and place of gangsters and showgirls of 1930s New York City, but in the end the story is a kind of urban fairy tale, where gangsters are really decent at heart, where a showgirl nurtures the conventional fantasy of a house full of kids enclosed inside a white picket fence, and where a straight-laced street evangelist dreams of her Prince Charming.
Director Mary Zimmerman -- who has made a career of mining the stories and dreamscapes of a number of cultures for stories of transformation -- knows just how to elicit the kind of hopeful energy that this show demands. In this urban fairy tale, the races mix more freely than was possible in actual 1930s New York, affording us the particular pleasure of watching this mixed cast sing and dance the buoyant score and the special joy of watching Rodney Gardiner play Nathan Detroit, the comic gangster who loves the ditzy showgirl Adelaide but can't bring himself to marry her. Robin Goodrin Nordli disappears into a particularly endearing Adelaide as well.
"Long Day's Journey into Night" is a different kind of classic entirely. Eugene O'Neill's aptly titled descent into the darkness of his own family history is the ultimate in psychological realism. One couldn't ask for a better cast than this to capture the pain of successful Irish-American actor James Tyrone (Michael Winters), and his two sons, failed actor Jamie (Jonathan Haugen) and gentle Edmond (Danforth Comins), as they attempt to avert the deterioration of mother Mary (Judith-Marie Bergan) into drug addiction.