Bench Dedicated to Students Killed
Ceremony marks one year since fatal crash
4/8/2015, 11:50 a.m.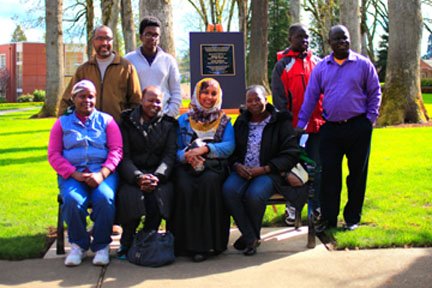 Nearly 75 community members joined the families of Kiden Dilla and Ayan Osman to celebrate the dedication of a memorial bench in honor of the former Pacific University students on the one-year anniversary of the fatal car accident that took their lives.
Dilla and Osman were traveling to campus on April 7, 2014 when their passenger vehicle was struck at the intersection of Highway 47 and Verboort Road north of Forest Grove. Both were killed instantly. The close friends from Portland and Beaverton were founding members of the university's Black Student Union in the fall of 2013 following a 30-year hiatus.
Pacific chaplain Rev. Chuck Currie, director of the university's Center for Peace & Spirituality, opened Tuesday's ceremony with a prayer for the two students who were very active in their respective faith traditions. The Dilla and Osman families listened to reflections of their daughters and words of support from Black Student Union advisor Yashica Island, university president Lesley Hallick, Forest Grove mayor Pete Truax and fellow Black Student Union members Patrice Fuller and Nicole George.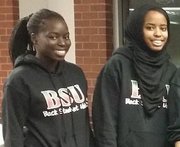 "We are privileged to be here to honor the lives of Kiden Dilla and Ayan Osman," Hallick said. "To recognize the service they contributed and, in turn, to recognize the tremendous community service and outpouring of hope and prayers and commitment that has taken place in the memories of both of these ladies. Pacific is a small community and everyone who passes through here has an impact, but especially people like Kiden and Ayan, who left us far too soon but still made an incredible contribution to the culture and mission of Pacific."
Island, Fuller and George thanked the Dilla and Osman families by highlighting community service endeavors the families embarked on in honor of Kiden and Ayan in collaboration with the Black Student Union. A student-employee basketball competition netted $450 for a school in South Sudan that Kiden had been donating her employment earnings to. The BSU also joined Ayan's family in donating time and resources to Friends of Trees, the Oregon Food Bank, Habitat for Humanity and others.
Located in the heart of Pacific's Forest Grove Campus near the university library, the bench is a place where community members can take a moment to remember Dilla, Osman and all who tragically passed away while they were students at the university. Support for the bench came from the Black Student Union, Kappa Sigma fraternity and other donors who wished to remain anonymous.