Portland's Civil Rights Struggle
'Lift Ev'ry Voice' airs Tuesday on OPB
4/13/2015, 4:47 p.m.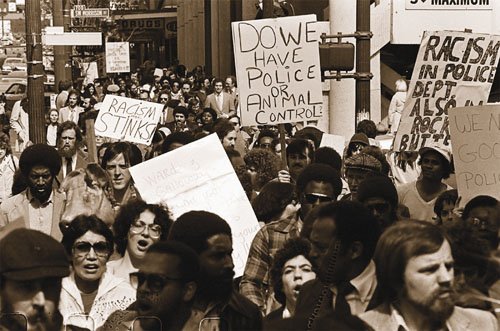 A new documentary explores Portland's African American history and the struggle for civil rights during the mid 20th century.
"Lift Ev'ry Voice," is told largely through the words of black men and women who lived through and led the struggles over issues related to urban renewal, school desegregation, and police relations.
Featuring archival film and images illustrating these remarkable times and the challenges that united the black community, the documentary will air on Tuesday, April 21 at 8 p.m. on Oregon Public Broadcasting.
The program begins during World War II, when thousands of African Americans migrated north to work in the shipyards.
In Portland, most were funneled into a hastily-constructed public housing project called Vanport; but in 1948 the Columbia River flooded and washed away the town leaving hundreds of both black and white families homeless. African Americans had little choice where they could move because of discriminatory real estate and banking practices. Most were forced to relocate across the Willamette River to the inner northeast district of Albina.
By the late 1950s, Portland's disinvestment in the Albina district, lack of capital for mortgages and home improvements and high unemployment among young African American men had helped create what was being called Portland's Negro ghetto. The area soon was targeted for federally-funded urban renewal projects. As a result, hundreds of homes and businesses owned by both blacks and whites were destroyed and hundreds of families in the Albina area were displaced.

By the late1960s, a new generation of young black activists had emerged with more militant strategies for changing the status quo. A decade later the Portland chapter of the Black United Front formed and gained tremendous power in the community. Its members advocated for equal and effective educational opportunities for all children in their own neighborhoods, and demanded an end to the forced busing of black children to white schools.
Activists would also turn their attention to institutional racism in the Portland Police Bureau and demand accountability of the bureau and its officers.
"Portland Civil Rights: Lift Ev'ry Voice" explores the triumphs and the challenges within Portland's black community, but also the racist policies and powerful negative stereotypes that would, throughout the city's history, still prevail.
The broadcast will feature live narration by Portland-based actor Russell Hornsby. Immediately following the film, the station will host a live, televised panel discussion with community activists and city leaders about the civil rights challenges Oregonians still face today.
That discussion will also extend to social media, where the audience can engage with comments and questions on Twitter using the hashtag #ORCivilRights.