Forging Trade with China
Business leader embarks on strategic initiative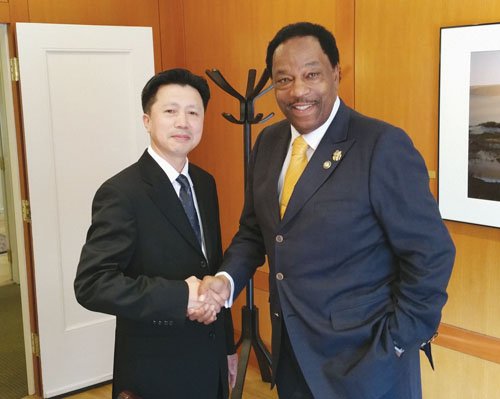 Portland business entrepreneur Roy Joy has embarked on a strategic initiative to build economic ties with China.
The long time business and tourism leader from Portland's African American community hosted an informal meeting with Deputy Counsel General Zha Liyou of the Peoples Republic of China earlier this month to forge new partnerships and relations.
An invited a group of about 20 Portland business and political leaders attended the session, including Multnomah County Commissioner Loretta Smith, Metro Council President Tom Hughes and former State Sen. Margaret Carter. Ping Sutherland from the Asian Pacific Chamber along with Bank of America and other partners in ethnic and mainstream communities also attended.
Jay, known for his savvy business endeavors, creative partnerships and collaborations initiated conversations around the table on how everyone can benefit from trade with China. The private closed door meeting was hosted by Oxley & Associates and Roy Jay Enterprises.
At the top of the list were discussions about tourism opportunities for visits to Oregon from Chinese tourists and Chinese business investments in Oregon under a federal immigrant investment program called EB-5.
Jay's company, Metropolitan Holdings, is working in tandem with a new African American Chamber group to open an office in Shanghai in 2016, which will be headed by chamber president O. Matthew Thomas of San Francisco, Jay said.
Zha was recently re-assigned from the Washington, D.C. area, and Portland was his first official visit outside his office since arriving on the West Coast. The diplomat also attended the fifth Oregon-China Economic Forum in Portland on April 2.