Achieving for Public Good
Rev. T. Allen Bethel named 'Ecumenist of the Year'
4/21/2015, 4:19 p.m.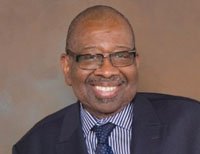 The Rev. T. Allen Bethel, senior pastor of Maranatha Church in northeast Portland, is being honored for his outstanding work in the faith community and for his advocacy of good public policy.
Bethel will be named "Ecumenist of the Year" on May 7 at the Ecumenical Ministries of Oregon Annual Community Awards and Celebration Dinner. The award is presented in recognition of leadership and commitment to fostering the love of Christ through ecumenical dialogue, witness and ministry.
In addition to leading Marantha Church, a diverse and historically African-American congregation for over 15 years, Bethel is president of the Albina Ministerial Alliance, the largest ecumenical organization of churches and ministers in north and northeast Portland.
The AMA's Coalition for Justice and Police Reform works to assure oversight to the Portland Police Bureau. In 2005, the group called for and helped to obtain a U.S. Department of Justice investigation into the patterns and policies of the Portland Police Bureau regarding lethal force. The coalition continues to meet, hold vigils, and call for more open investigations of deadly force shootings by the Portland Police Department. Bethel also serves on the faculty of North Portland Bible College and Warner Pacific College, and he has led mission teams to Haiti and St. Kitts.