Cascade Campus Job Fair Today
18th annual event timely for new hires
4/21/2015, 3:32 p.m. | Updated on 4/24/2015, 11:55 a.m.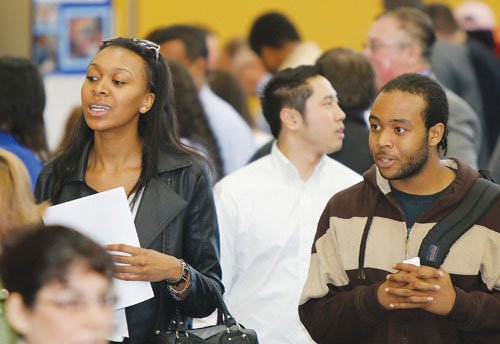 With hiring on the rise and employment returning to pre-recession levels, the Portland Community College Cascade Job Fair is poised to be one of its strongest ever.
The 18th annual event will take place from 11 a.m. to 3 p.m. today, Tuesday, April 28, in the Cascade Campus gym. More than 70 employers from the Portland metro area will be on hand, with more than 1,000 job seekers anticipated to participate.
"This is the best time in years to be looking for work in Portland," said Becky Washington, coordinator of career services at PCC's Cascade Campus and lead organizer of the job fair. "Employers in nearly all sectors of industry are hiring, and there's a new energy and focus in the tech community to attract underrepresented communities to the field, which is very exciting."
Attendees also will have access to a variety of helpful free seminars and workshops on topics like networking, resume-writing, interviewing tips, and seeking job satisfaction, among others.
Among the employers to be represented at this year's fair are Legacy Health System, New Seasons Market, Hoffman Construction, Portland General Electric, US Bank, Aflac and a host of local government agencies, among many others. For a full list of participating employers and other resources available at the event, visit pcc.edu/cascadejobfair.