Urban League Hires Homegrown Leader
Former Oregon press secretary to guide organization
4/21/2015, 4:22 p.m.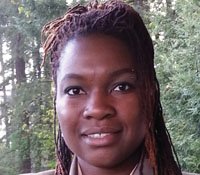 A new era is beginning for Portland's premier civil rights organization with new leadership from a homegrown attorney who is steeped in political experience.
Nkenge Harmon Johnson takes office as the President and Chief executive of the Urban League of Portland after serving in the Obama administration and as a press secretary for former Oregon Gov. John Kitzhaber. Her husband, attorney Erious Johnson, is the Director of Civil Rights with Oregon Attorney General Ellen Rosenblum's office.
Harmon Johnson becomes the fourth woman CEO to lead the Portland Urban League, a non-profit that oversees support services and resources for the disadvantaged in Portland's black community and other populations.
"I'm honored and delighted that the board of directors and supporters of the Urban League of Portland have entrusted me with this opportunity," Harmon Johnson said. "I am pleased to join the dedicated staff, board, and supporters in continuing our mission to shape a community that works for all of us; east, west, north and south."
Raised in northeast Portland and Salem, a product of Catlin Gabel School and Harriett Tubman Middle School, she received a Bachelor of Science in Business Administration from Florida A & M University, and a Master of Business Administration from Trinity University in Washington, DC. She earned her Juris Doctorate from Howard University School of Law. She is a member of the Oregon State Bar and the District of Columbia Bar.
Politics has played an important role in Harmon Johnson's professional career, having served as a staff member in communications, campaigns, constituency outreach and legislative matters for U. S. Rep. Shelia Jackson Lee (D-Texas), U.S. Sen. Harry Reid (D-Nev.), U.S. Sen. Debbie Stabenow (D-Mich.); and the Democratic Congressional Campaign Committee. From 2010 to 2013, she took on an important responsibility for President Obama's Administration as a Deputy Assistant United States Trade Representative with national and international public affairs responsibilities focused on the Americas and China.
In her home state, she served under Gov. Kitzhaber as Communications Director from January to July 2014. Her departure came after she raised ethical concerns over the conflict between state matters and private matters relating to the governor's mate Cylvia Hayes and her unofficial role as First Lady.
Harmon Johnson succeeds Michael Alexander, who retires on May 8 after leading the Urban League of Portland since 2012. Her selection was announced last week and the organization threw a small welcoming party Thursday night to allow the community to meet her. She will work with Alexander until his retirement for a seamless transition.