Tiny House for Dignity Village
Student build nears completion
4/28/2015, 4:59 p.m.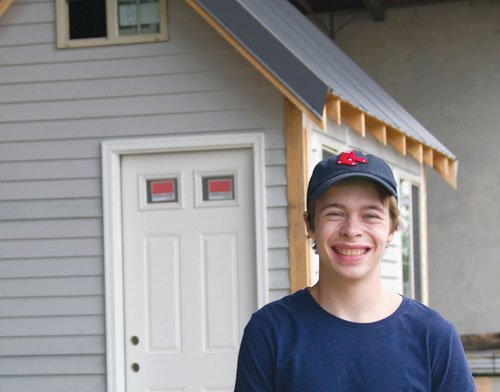 Ted Morissette will pursue his passion for film production when he begins college next fall. But before he graduates from Oregon Episcopal School in June, he's satisfying his curiosity about home building by leading a group of fellow volunteer students in construction of a "tiny house" to be donated to Dignity Village in northeast Portland.
Morissette, 19, along with Kristen Dallum, a staff advisor from the school, has been leading the group for the last several months in organizing volunteers, scheduling work parties and generating donations of building materials, food and other items to help the project come together. The group has been working since mid-February — sawing lumber, beams, flooring, trim and siding and piecing and pounding it in place.
Now nearing completion, the tiny home will be moved from its building site on a dock at Pacific Lumber in Beaverton to Dignity Village on Wednesday, May 13.
When the students visited the village at the beginning of their project they found the camp, created as a refuge for the homeless, was always in need of more and safer structures for their population.
In recent years, tiny houses have been seen as a way to combat homelessness with many popping up around the country in neighborhoods designed for low- and no-income housing similar to Dignity Village.