Meeting First Lady Michelle Obama
Portland student gets an experience of a lifetime
Kalauna R. Carter | 8/4/2015, 3:39 p.m.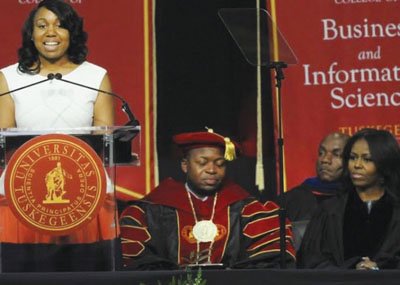 Growing up in Portland, I never in my life thought I would have an opportunity like this. Meeting the First Lady of the United States of America was one of the most humbling experiences of my life and forever life changing.
Mrs. Michelle Obama graced the illustrious campus of Tuskegee University in Alabama in May as the university's spring commencement speaker. The possibility of her speaking came to reality just a couple of months earlier as preparations to accommodate her schedule were being put into place.
The summer prior to the school year starting, myself as senior class president and two other students, Krissean Lea and Jamon Pulliam, served on the Tuskegee Senior Class Executive Board. We set ourselves on a mission to secure a speaker for the 2015 spring commencement. We took surveys to the seniors in the class to gain their opinions. Michelle Obama was the top choice, but as time went on we were unable to make successful contact with the First Lady's team.
We thought all hope was lost until the following semester when I received an email to attend a highly confidential meeting to talk about the commencement speaker. To my surprise her team reached out to Tuskegee to say she was interested in speaking. Our prayers had been answered.
On May 9, 2015 my life changed forever. I was given the opportunity to speak in front of 3,000 guests and graduates to bring greetings to the senior class of 2015, addressing them one last time at their final curtain call. The ceremony was also live streamed nationally.
I was extremely nervous, but after meeting the First Lady, she gave me reassurance, telling me to take my time and let God take control. After my speech, I was greeted with a "great job" by her. Although the conversation was brief, she shared with me the advice to always remain a leader, have strength in all that I do, never let anyone get in the way of my dreams, and to always remember to help those coming behind me.
Those words I will never forget and I am reminded each day with this quote by her, "When you've worked hard, and done well, and walked through that doorway of opportunity, you do not slam it shut behind you, you reach back, and you give other folks the same chances that helped you succeed."
---
Kalauna R. Carter is a senior at Tuskegee University in Alabama and a graduate of De La Salle North Catholic High School in Portland.