Tilikum Opens for Bridge Pedal
8/4/2015, 3:17 p.m.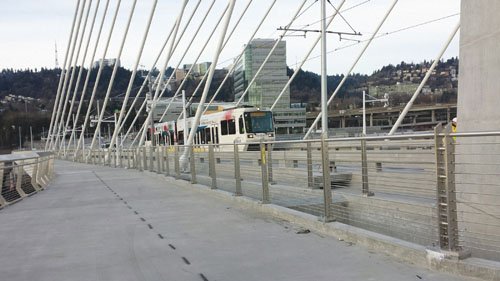 Portlanders will have the opportunity to be among the first to cross Portland's newest bridge, Tilikum Crossing, as it becomes part of Providence's 20th annual Bridge Pedal, taking place Sunday, Aug. 9.
Tilikum is a native word for "Bridge of The People," and the new downtown span is a unique car-free bridge that will accommodate light rail transit, pedestrians and cyclists when it officially opens to the public during a grand celebration on Sept. 12.
The Providence Bridge Pedal has ride options for everyone, with routes from 14 to 37 miles. All of the routes will take cycles over the upper decks of the Fremont and Marquam bridges as well as the new Tilikum Crossing. There will also be a three-mile Kids Pedal and Providence Bridge Stride, a six-mile route which crosses the Marquam Bridge and Tilikum Crossing.
All events culminate at Southwest Naito Parkway, where there will be secure places to park bicycles for cyclists and all participants will be offered free entry into the annual local food festival, Bite of Oregon. There will also be a Health and Wellness Expo on the east end of Tilikum Crossing, where participants can pick up their ride and walk packets prior to Sunday's event.
Following the Providence Bridge Pedal, Tilikum Crossing will be open to the general public from 1:30 p.m. to- 4:30 p.m.
For more information, visit providencebridgepedal.org.