Voting Rights Act Turns 50
Secretary of State issues proclamation
8/6/2015, 1:27 p.m.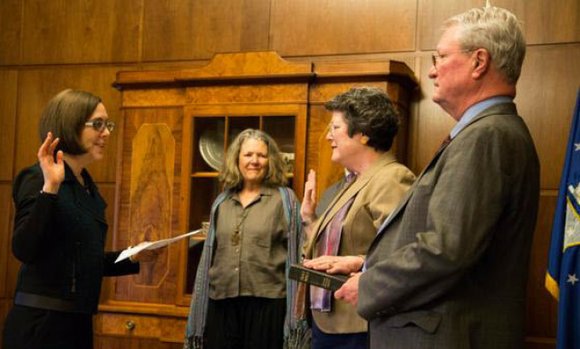 Oregon Secretary of State Jeanne P. Atkins invited Oregonians to join her Thursday to commemorate the Voting Rights Act. 50 years to the day it was signed into law by President Johnson on Aug. 6, 1965.
The Act outlawed discriminatory voting practices, such as literacy tests and poll taxes, which were adopted by states after the Civil War to prevent African-Americans from registering and exercising their right to vote. It also established new legal protections for minority voters at the polls.
"At a time when politicians in many states around the country are acting to suppress the voting rights of minorities, youth and the disadvantaged, Oregon stands out as a beacon of inclusiveness and fairness," Atkins said. "We are working to make it even easier for Oregonians to become voters and cast their ballots."
Oregon has a long-standing tradition of ensuring voting is accessible, convenient, and secure. In 1998, Oregon led the nation with Vote-by-Mail system for all elections and became the national model for making voting as accessible as possible.
"Once again we are leading the nation with the Oregon Motor Voter Act" Atkins said. "This program will make it easier for every eligible Oregon citizen to be registered to vote."
As it was 50 years ago, and as it has been since the founding of our nation, "the fate of our democracy depends on preserving and upholding access to the ballot," Atkins said.
To learn more about registering to vote and casting a ballot in Oregon, visit OregonVotes.gov.