Faith Leader Open to Change
Welcomes women into Baptist leaders group
8/12/2015, 11:57 a.m.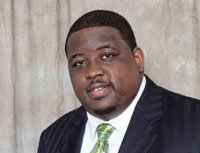 The Rev. J. Walter Hills II of New Hope Missionary Baptist Church will lead a group of historically black churches in Portland.
Rev. Hills was installed as moderator of the Portland Union Baptist District Association at their 60th annual session last month. The group represents affiliated African-American Baptist churches in Portland.
The outgoing moderator, Rev. Carland Allen of Greater Mt. Gillard Baptist Church, was recognized during the session for his leadership for the past five years. Additionally, installed as the vice moderators were The Rev. Craig Brown of the St. Paul Baptist Church and The Rev. Victor Reynolds of the New Covenant Baptist Church.
Rev. Hills hails from Columbia, S.C., and recently celebrated his second anniversary as the pastor of New Hope. The 32 year old also serves as Third Vice President of the General Baptist Convention of the Northwest.
In a message to his fellow faith leaders, he said he wanted to be an agent for change, to build "strong leaders, stronger churches, better people and a better district."
One of his recommendations was to open the group's membership to those churches who have female pastors. The district traditionally has been one which registered churches with male pastors only.
His other plans include introducing new ministries and programs, engaging and investing in our youth, and much more.
Rev. Hills is married to the former Rhyan Michelle Adams, and they are the parents of two children.