Hall of Famer Visit Saturday
8/12/2015, 1:31 p.m.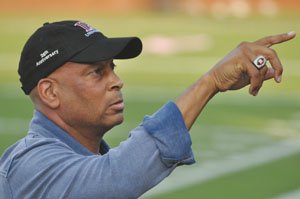 NFL Hall of Famer Ronnie Lott will be welcomed to Beaverton for an athletic leadership clinic for foster youth and students from the St. Mary's Home for Boys on Saturday, Aug. 15.
The clinic, sponsored by The Other Side of Basketball and All Stars Helping Kids, will offer youth a chance to learn about how athletics, academics, and good citizenship can play a role in furthering their futures.
In addition to the clinic, Lott will conduct a 90-minute social session emceed by Beaverton Mayor Denny Doyle. Lott will share stories, meet guests, sign autographs, and take pictures. This will be limited to 50 people. A barbecue lunch will be provided by Cook Security Group during the social session.
Sponsor tickets to the social session are $250. Participating youth will attend for free. For more information, visit TheOtherSideOfBasketball.org.