Life Sentence for Portland Pimp
8/18/2015, 3:20 p.m.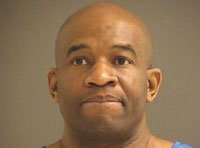 A repeat Portland sex offender who prostituted a 15-year-old runaway last year has been sentenced to life in prison.
Anthony Curry, 50, had other victims come forward during his high-profile case in Multnomah County that concluded last week, including two women who said they had met Curry when they were teenagers and that he had started prostituting them after several weeks of manipulation and attempts to garner their trust.
Even after the women escaped from Curry, they testified via speakerphone how they continued to suffer because of his crimes and urged the court to put an end to his ongoing behavior.
Authorities said Curry pushed his last victim to strip at Portland's Jag Clubhouse after obtaining her a fake ID. He then took her to other local clubs, including The Dolphin II, Stars Cabaret in Beaverton, and Sunset Strip in Cedar Hills.
The victim's mother also addressed the court by speakerphone and asked Judge Janelle Wipper to put away Curry for life. Curry has a criminal history, including convictions for third-degree rape, and promoting and compelling prostitution. Wipper followed through with the life sentence under Oregon's three strikes law for sexual offenders, saying she was "unable and unwilling" to go with anything less.