Unsolved Murder Revisited
8/18/2015, 3:53 p.m.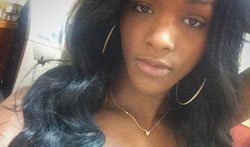 Portland Police are coming back to the community to find answers on a murder case that's slowly gone cold.
Last year, on Aug. 17 at 5 a.m., officers found the body of Ervaeua Ronchelle Herring, 21, after reports of a shooting at the Eastwood Village Apartments on Southeast Powell Boulevard. Herring was dead of an apparent gunshot wound and it was clear someone, maybe several people, had shot into the apartment repeatedly. Herring was pregnant at the time.
Crime Stoppers of Oregon is asking that if anyone knows about the shooting or death of Herring, they bring information forward by texting 823HELP to CRIMES (274637) followed by the tip, call 503-823-HELP, or visit crimestoppersoforegon.com. Tips can be shared anonymously and authorities are offering up to a $1,000 reward for information that leads to an arrest in this case or any unresolved felony.