Public Piano Hit by Vandalism
8/19/2015, 3:48 p.m.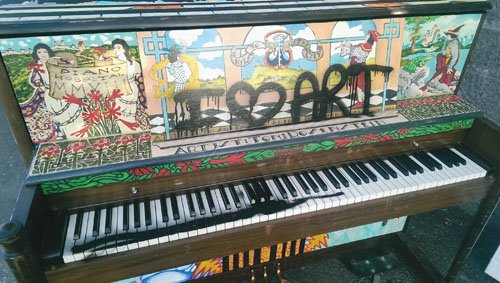 The School of Piano Technology for the Blind's "Keys to the City" program experienced its first-ever act of vandalism Saturday evening when graffiti was sprayed on the front as well as on about half the keys of the "Renaissance" piano which was located along the Vancouver waterfront trail near McMenamin's.
"We are, of course, extremely disappointed and saddened at the loss of this beautifully painted piano," said Julia Liudahl, administrative manager and founder of the Keys to the City program. "We will not, however, allow the actions of one individual to stop us from offering this very popular program to our community. This act of senseless destruction is very disrespectful not only to the school but also the artist who spent countless hours designing and painting this original work of art."
Each year Keys to the City pianos are placed in popular public gathering spots for a 10-day celebration of music and art. The pianos are available and accessible to all, from very beginning players to virtuosos.
Funds raised through the program assist the School of Piano Technology for the Blind, the only school of its kind in the world, in fulfilling its mission of providing life-changing training to blind and visually impaired students.