Drive-In at Zidell Yards
8/26/2015, 4:55 p.m.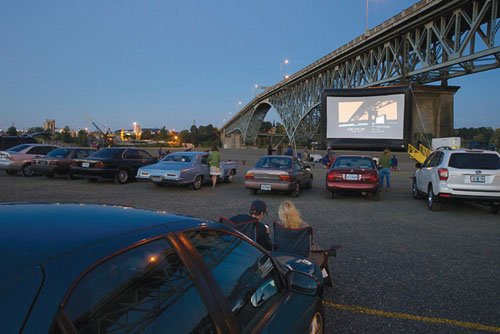 The Northwest Film Center and Zidell are welcoming the community to a unique, pop-up outdoor film series.
Drive-in at Zidell Yards takes place Thursday, Aug. 27 through the Sunday, Aug. 31, turning Zidell's South Waterfront property between the Ross Island Bridge and Tilikum Crossing into a temporary outdoor movie theater venue, accessible to cars, bicyclists, riders of mass transit, and walkers alike.
Five screening are scheduled to offer something for everyone. The films are Amy Heckerling's irreverent adaptation of Jane Austen, "Clueless," Aldred Hitchcock's timeless thriller "North by Northwest," Steven Spielberg's dinosaur blockbuster "Jurassic Park," John Landis' wry and horrific 80s smash "An American Werewolf in London," and Tim Burton's rollocking road trip "Pee-Wee's Big Adventure."
General admission tickets are $8 and available for cash sales only on the night of the screenings. Seating is on small gravel, so those who are not bringing a car are encouraged to bring a lawn chair, air mattress, or blanket.
For more information and a complete listing, visit nwfilm.org/nowshowing.