Say Her Name
Vigil points to needless killings
8/26/2015, 12:06 p.m.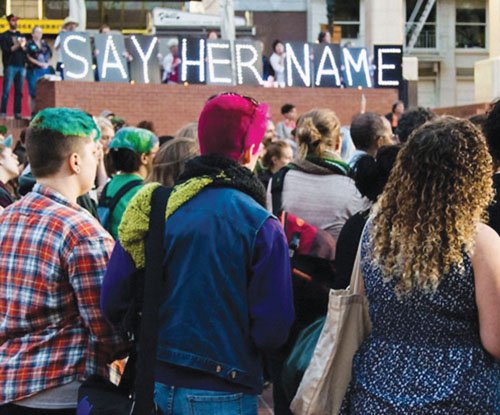 With 18 and counting murdered trans women, most of them black, lost across the country so far this year, activists across the country and in Portland are calling a state of emergency and asking for support in stopping more needless killing.
A vigil Thursday night at Pioneer Courthouse Square, downtown, focused on remembering the victims. With a rallying cry of "Say Her Name," over 100 people attended the event, which was put together by Greater Portland Trans Unity and Don't Shoot Portland.
The aim was to uplift and honor those lost in a way they deserve – by saying their names, sharing their stories, and discussing the importance of supporting trans women in our communities while they are alive.
"Eighteen trans women have been murdered in America in 2015,"explained Alyssa Pagan, a local activist and trans woman who helped organize the vigil. "Most of them are black. We want more people to finally believe that their lives matter. Often times their deaths go uninvestigated and underreported. Even when they are reported on, they are repeatedly misgendered and their character called into question."
This lives and stories of Lamia Beard, Keyshia Blige, Kandis Capri, London Chanel, India Clarke, Taja DeJesus, Tamara Dominguez, Papi Edwards, K.C. Haggard, Mya Hall, Amber Monroe, Yazmin Vash Payne, Penny Proud, Kristina Gomez Reinwald, Shade Schuler, Ty Underwood, Elisha Walker, and Mercedes Williamson were shared, and organizers asked that community members continue to remember their names and the work they did across the country and in their communities.