The Call for Good People in Teaching
PCC offers accessible, affordable start to esteemed profession
Dr. Karin Edwards | 12/8/2015, 3:27 p.m.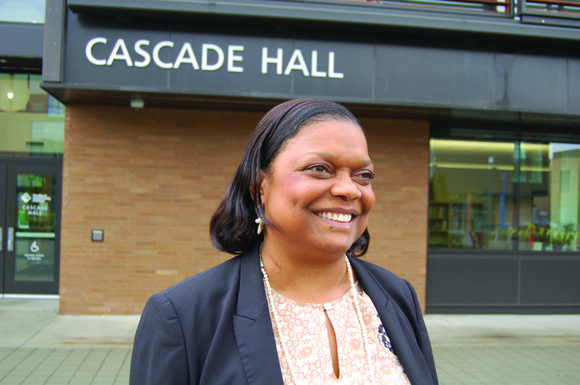 Few things in our society convey a sense of status and success as much as one's choice of profession. Doctors, lawyers, bankers – all of these are held in esteem by many Americans, and they often come with a healthy paycheck to boot. But I submit to you that there is another profession which, while perhaps not as lucrative or as flashy, is a truly noble calling and commands a special prestige all its own – the teacher.
If you ask any American to name the top five most influential people in his or her life, chances are a large majority will have at least one teacher on that list. Teachers not only impart to young people the basic tools they need to make their way in life, they are de facto mentors, counselors, coaches, cheerleaders, role models, and – sometimes – parental figures.
If we paid teachers a salary commensurate with the importance of their role in American life, they would earn as much as doctors and lawyers do. As it stands, though, a career in teaching brings with it a decent salary and good benefits. But more importantly, teaching is a labor of love. Teachers do what they do because they are called to do it, because teaching pays them on the inside as well on the bottom line. It's difficult to find a teacher who hasn't, at some point in his or her career, paid for classroom supplies out of their own pocket, or who has gone above and beyond the call of duty to help a student in need.
We need for good people to hear this call and answer it. Fortunately, there is a growing need for qualified teachers in the Portland area right now. The steady influx of new residents to the Portland area, combined with the pending retirement of many teachers from the Baby Boom generation, is creating more and more vacancies in classrooms across the region. Portland Public Schools estimates that they will have approximately 1,000 full-time teaching openings over the next two years.
So – what is the best way for someone to answer this call? How does one become an educator? The "best" way is a matter of personal preference, but I can tell you that Portland Community College offers an accessible, affordable, academically rigorous way to start on the journey toward earning a teaching credential.
The Portland Teachers Program (PTP), based at PCC's Cascade Campus, is our region's premier resource for training and educating teachers of color for local public-school classrooms. Through a unique partnership with Portland State University, Portland Public Schools, and the Beaverton School District, PTP students begin their education at PCC and transfer to PSU en route to a Master's degree and a teaching credential – all at no cost.
And through the Center for Careers in Education – also based at the Cascade Campus – students can pursue a transfer degree in education or follow a different education-related path, such as a one-year certificate in the Para-education program. Para-educators work in support of teachers, and can choose an emphasis in special education or working with English language learners. The Center for Careers in Education also offers a Library Assistant certification which can be earned in less than one year, and provides general support and resources for students pursuing a career in education.
Teaching is among the noblest of professions. It is not without its challenges and occasional frustrations, but it offers meaning and personal satisfaction on a level that few other occupations do. Moreover, teachers can claim something that few others can – at the end of the day, they can look in the mirror with the firm knowledge that they helped make the world a better place.
I encourage you to look into a career in education, starting at Portland Community College. Who knows – maybe one day you'll end up on someone's list of their top five most influential people.
---
Dr. Karin Edwards is president of Portland Community College's Cascade Campus.