Promoting Economic Justice
Civil Rights icon coming to Portland
12/8/2015, 1:04 p.m.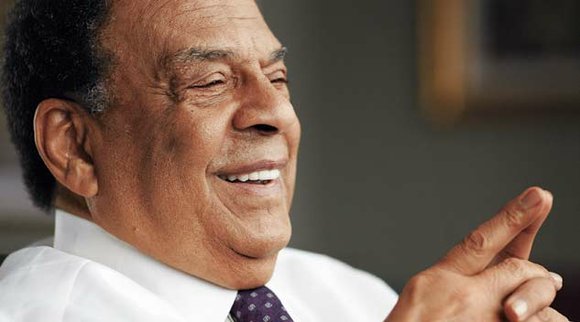 Former U.N. Ambassador Andrew Young, a leader in the Civil Rights Movement who helped secure the Civil Rights Act of 1964 and the Voting Rights Act of 1965, will bring a message about economic justice to Portland when he delivers the keynote speech for the Portland Business Luncheons on Thursday, Dec. 17 at the Oregon Convention Center.
A friend of the late Dr. Martin Luther King Jr., Young is the last living person who was on the balcony with Dr. King when he was assassinated in 1968. He has continued the struggle for equal rights and economic justice that Dr. King and others started in his 50 plus career as pastor, politician, diplomat, educator and author.
"Andrew Young is my hero, one of the last living icons of the Civil Rights movement who marched with Dr. King, Julian Bond, Medgar Evers and other fighters for social justice," said Larry Anderson, a member of Portland's African-American community and a former Portland Police Officer who is one of the event organizers.
"I've had the privilege of meeting Ambassador Young several times and I'm really glad he accepted our invitation to speak to the people of Portland about economic justice," Anderson said.
Young, 83, started his career as a pastor in Georgia and through his work with the Southern Christian Leadership Conference befriended Dr. King. After the assassination, Young became executive vice president of the SCLC. He later entered the world of politics and won Georgia's Fifth District seat in the U.S. House of Representatives, one of the two first black Southerners in Congress in the 20th century.
In 1977 President Jimmy Carter named him U.S. Ambassador to the United Nations. After returning to Atlanta he was elected Mayor and ultimately helped the city land the Summer Olympics in 1996. Mr. Young is currently working to find sustainable solutions to eradicate hunger, malnutrition, lack of education and economic injustice through his non-profit foundation.
"Ambassador Young is coming to Portland to share the story of his personal faith journey in the tradition of the Portland Business Luncheons," said event organizer Doug Crane. "And as a businessman, I'm looking forward to hearing his message about economic justice and how he teamed up with key influencers in Atlanta to help transform that city into the amazing international hub it is today."
In a recent interview, Young described the economics of poverty as not based on race, but of a lack of jobs, a lack of education and a lack of health care.
Portland Business Luncheons is a collection of business people who embrace the religious faith in their lives and meet together monthly for lunch. The purpose is to develop relationships within the business community to encourage one another to carry out the greatest commandment: love God and love each other.
For tickets and more information about the Dec. 17 event, call Rae Lynn Barela at 503-906-1581 or visit pdxlunch.com.