Mass Casualty Mystery
Driver in Las Vegas tragedy from Portland
12/22/2015, 3:48 p.m.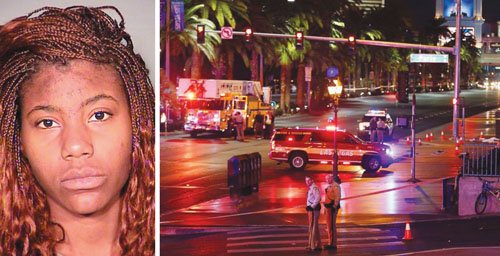 (AP) — It wasn't long ago that a Portland woman arrested in a deadly Las Vegas Strip sidewalk crash seemed to be doing well for herself.
After a rough childhood that included a period of homelessness in high school Lakeisha Holloway had become an award-winning high school graduate and caring mother. That recent picture of success deepens the mystery of how she wound up in a Las Vegas jail and on suicide watch.
The 24-year-old Holloway faces murder charges after authorities said she plowed her Oldsmobile down a sidewalk of tourists Sunday night, killing one person and injuring three dozen others while her 3-year-old daughter sat in the back seat of the careening car.
After reviewing video surveillance footage, police said they believe Holloway drove up on the sidewalk deliberately.
They say she was homeless, and out of money, sleeping in her car in parking garages. She might have been on her way to Texas to meet with the father of her daughter after the pair had split up some time ago, family members said.
After her arrest, Holloway "described a stressful period today where she was trying to rest and sleep inside her vehicle with her daughter but kept getting run off by security of the properties she stopped at," a police report states.
She parked at a casino a few blocks away from the crash site, told a parking attendant that she had run down people and asked the valet to call 911, Clark County Sheriff Joe Lombardo said. Her daughter, who was in the backseat, was not hurt.
The sheriff said Holloway was stoic when police arrived, showed no resistance and spoke coherently about what happened.
Authorities declined to comment on a potential motive and said they were struggling to piece together Holloway's background.
She had changed her name to Paris Paradise Morton in October, according to Oregon court records.
Several years ago, Holloway graduated from Rosemary Anderson High School in north Portland, an alternative high school where she received an award for overcoming adversity from the nonprofit Portland Opportunities Industrial Center.
The crash happened in front of the Paris and Planet Hollywood casino-hotels and across from dancing water fountains of the Bellagio hotel-casino. The Miss Universe pageant was being held at Planet Hollywood at the time of the crash.
People jumped on the car and banged on its windows, but Holloway didn't stop driving on the sidewalk, Lombardo said. The car was fully on the sidewalk twice, including once when it traveled for 200 feet, police said.
There was no evidence that Holloway had consumed alcohol, but a drug recognition expert at the scene determined that she was under the influence of some sort of stimulant, Lombardo said.
Holloway was under suicide watch at jail, Deputy Clark County Public Defender Scott Coffee said. A Clark County spokesman said the woman's daughter was being cared for by child protective services.
At least 35 people injured in the crash were taken to hospitals, including three people still in critical condition with head injuries, officials said.
The crash killed Jessica Valenzuela, 32, of Buckeye, Ariz. Other victims included four athletes from Pacific University in Forest Grove who were in town to compete in a wrestling tournament.