Mission to Serve Christmas Day
12/22/2015, 3:55 p.m.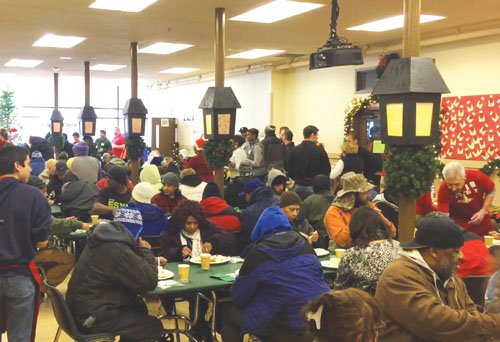 Union Gospel Mission, downtown, will be providing 650 meals on Christmas Day, Friday, Dec. 25 from 10 a.m. to 2 p.m. The meal is free and open to anyone in need.
The menu is ham, scalloped potatoes, green beans, fruit salad and dinner rolls. Pies will be served for dessert. In addition, guests will receive gifts of hats, gloves, socks, blankets and sleeping bags. Over 140 volunteers will be involved in preparing the meal and serving at the event.
Union Gospel Mission is seeking donations of sleeping bags and water resistant gloves for the gifts at the event. Items may be dropped off at 3 N.W. Third Ave. or by calling 503-274-4483. Donations may be made online at ugmportland.org.
"We are so grateful for the donors and volunteers who make it possible for Union Gospel Mission to provide the Christmas Day meal for people who are homeless or in need this holiday. Many of our guests at this event may have otherwise spent the holiday alone without a wonderful meal or a place to enjoy the holiday and a place to connect with other people," said Bill Russell, Union Gospel Mission's executive director.