United for Peace
Humanity wins out to anti-Muslim rhetoric
12/22/2015, 3:58 p.m.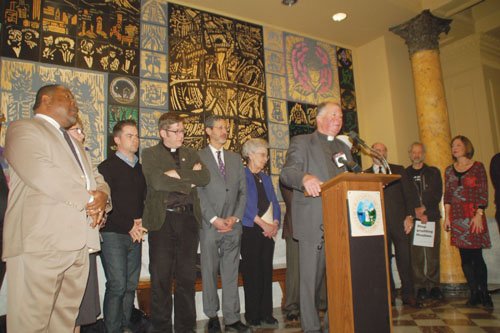 Religious and political leaders in Portland have come together during the holiday season to promote a message of peace over the anti-Muslim rhetoric that has erupted across the country.
Representing faith traditions from around the world, the leaders gathered at City Hall for a press conference to condemn Islamophobia In light of the inflammatory words by candidates in the Republican campaign for president and Congress, and to show support for refugees of war from places like Syria and Iraq, and embrace our friends and neighbors of the Islamic faith here in Portland and across the northwest.
The support for religious tolerance came Dec. 16 as the Portland City Council voted unanimously for a resolution to support the city's Muslim community and welcome all of its immigrant and refugee populations. In addition, members of the African-American community held an interfaith service to promote religious tolerance and the common good.
The press conference included a diverse group of leaders who have over many years courageously fought for human rights. Among them were Rabbi Joey Wolf of Havurah Shalom Synagogue, Chancellor Mary Jo Tully of the Catholic Archdiocese of Portland, Wajdi Said, president of the Muslim Educational Trust, and Jan Musgrove Elfers of Ecumenical Ministries of Oregon. The delegation included representatives of churches serving diverse populations in north and northeast Portland, including Pastor E.D. Mondainé of Celebration Tabernacle and Pastor W. J. Mark Knutson of Augustana Lutheran.
Portlanders were called on to do whatever they could to ensure that Islamophobia and other forms of racism have no place in the city.
"At times like these," says Wajdi Said, "when many are sowing seeds of division and fear, it is heartening to know that there are good people in Portland taking a stand to uphold equal rights for all people."
The united voices for peace took place against the backdrop of recent shooting attacks in Paris and San Bernardino, Calif. and their aftermath, both of which had Islamic extremist groups involved. These attacks have caused shock waves across the country, and have been used by some as a platform for xenophobia and Islamophobic sentiment.
One of the most high-profile voices condemning Muslim immigration and asylum has been Republican presidential candidate Donald Trump, who has called for a "total and complete shutdown" of Muslim immigration into the United States.
The local leaders condemned Trump's proposal, reminding many that holding a diverse group of religious people accountable for the act of a few was prejudicial and ignorant – and could potentially cause a massive loss of life for Syrian refugees who stand to be turned away and returned to deadly conditions back in the Middle East.
Ned Rosch, an activist from the Portland chapter of Jewish Voice for Peace, told a story of his own uncle being turned away from the United States during the Holocaust, only to be killed back in Europe.
"When we single out, malign, debase any one or any group in our community we are much less and much uglier," he said. "I congratulate the Portland City Council for doing the right thing."
Kayse Jama, executive director at the Center for Intercultural Organizing in north Portland, said defending the rights of Muslim Americans and welcoming refugees was akin to defending freedom and the right to practice whatever faith a person wants.
"We affirm the universality of the anti-racist struggle and through it, equality in law, respect and dignity of all human beings," Jama said.
On Friday, Voices of a Thousand Angels, an Africa American Interfaith prayer group, held a special community wide service to promote a more peaceful and just world, regardless of our different beliefs.
E.D. Mondainé, the senior pastor at the Celebration Tabernacle issued the invitation to the program, which included poetry from local writer S. Renee Mitchell and a song of prayer from the local Indigenous community courtesy of Fish Martinez.
"My team and I have responded to a national catastrophe across our great nation and today I sense an urgent call to respond with community prayer," Mondainé said.