Do We Need a City-Wide Rent Strike?
Priced out of housing
Lew Church | 12/23/2015, 12:29 p.m.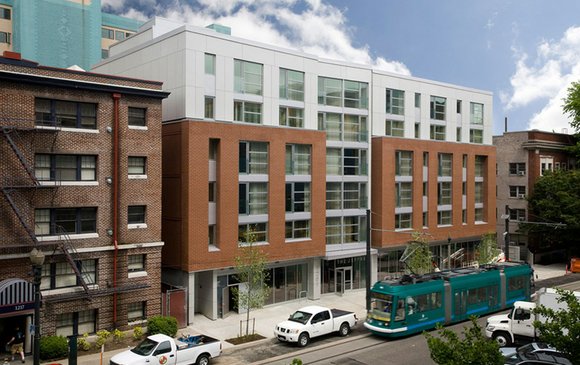 The Portland Observer's excellent cover story ("No Where Left To Go," Dec. 6 issue) hits the nail on the head: Because of skyrocketing rents, lack of foresight and planning by public officials, and a mainstream media which sees housing as just an "amenity" of some sort, many folks in Oregon and throughout the country are finding themselves as tenants who are priced out. Poor folks are sleeping outdoors in tent cities or at camps or shelters like Right to Dream Too in downtown Portland -- and finding themselves to be people who are simply marginalized with no where left to go.
At Portland State University, the Progressive Student Union and Tenant Rights Project have joined hands, in the words of an old rap song, to "fight the powers that be." We have organized a rent strike on campus against a subcontracted student housing management corporation and launched pickets and demonstrations against two of the landlord's retail businesses. We have held 104 Sunday night meetings with low-income tenants at the Butte and Biltmore buildings, downtown, housing owned and managed by Central City Concern, a nonprofit that runs on a $38 million annual budget.
We have held a dozen tenant organizing meetings where we have also encountered downright interference and opposition from some landlords and some conservative tenants.
This fall, we have advocated for low-income tenants in a Home Forward housing authority building, The Jeffrey, at 1201 S.W. 11th Ave., across from the downtown Safeway.
Some of residents at the Jeffrey have been targeted for de facto evictions by the landlord, Income Property Management. In one case, when a Tenant Rights Project sought to put up pro-tenant union posters, the landlord said no way, and in another, a tenant organizer was not allowed back in the building. This would seem to violate both the First Amendment and Oregon landlord-tenant law. Management claims of tenant and roommate disputes would seem to violate laws against false statements or libel.
There is a housing shortage in liberal, progressive Portland, and city officials, like Josh Alpert, Charlie Hales's chief of staff, keep saying that there needs to be "more research" about why the rents are so damned high.
For those of us who have been organizing for tenant rights for many years -- (I organized years ago, as a VISTA Volunteer in Macon, Ga. with the Southern Christian Leadership Conference, Dr. Martin Luther King Jr.'s organization) -- it means that it is time for tenants to do what Dr. King and Gandhi both worked on, vis-à-vis, to address housing and exorbitant rents with a city-wide rent strike to stop the evictions, make sure that all people are housed no matter how "marginal."
Does Portland belong to the affluent only or to all of us? We need to put a stop to evictions, legalize rent control in Salem for our state, pass inclusionary zoning, and start getting people indoors, out of the rain and the cold, and in houses!
---
Lew Church is an organizer for Tenant Rights Project at Portland State, where he serves as Coordinator of PSU Progressive Student Union.