Arresting Power Documentary Hits Movie Screen
Portland filmmakers tackle police violence
Mike Bivins | 1/14/2015, 1:44 p.m.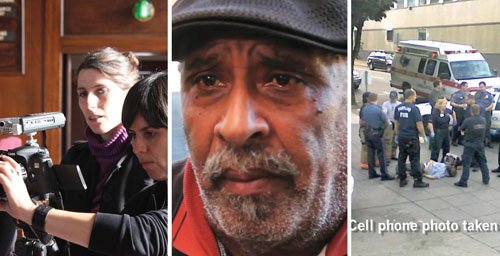 For many folks, learning about the racist history of Oregon comes with a long talk and a city of Portland timeline that shows how black people have been discriminated against since the state's earliest days and continue to face challenges due to race.
However, now that the documentary "Arresting Power" is out, I will simply be able to tell people who do not know this state's sordid history to watch the film, and they will be able to become better educated about racism and in particular police brutality in Portland.
According to one of the filmmakers, Julie Perini, the film intends to "demonstrate a humanizing story" of how the system of policing does not work, and how we have a long way to go. The movie accomplishes this in a very artistic way.
Perini, along with her co-producers and filmmakers Jodi Darby and Erin Yanke do a great job mixing history with art. They start with a too often untold story that reached a fever pitch in 1975 when four black men were shot dead by the Portland Police Bureau in a single year.
Despite the outcry from the community then, the problem of police brutality, especially as it pertains to people of color and the mentally ill, is still a conversation that takes place today due to more recent officer involved deaths.
One such example is the death of Keaton Otis, a young black male who died a few years back when he was hit with 23 of the 32 bullets fired by police after a traffic stop. There's also a general mistrust of the Portland Police Bureau by the black community.
When speaking with Perini about Arresting Power, and the history of the Portland Police Bureau, she tells me while there has been some change in law enforcement practices, but there has been little change for the better.
Police have become more militarized, Perini says, lamenting an even "stronger police presence" over the years, and with more police, come more arrests.
She also speaks briefly on how the police are the first line of the prison industrial complex and the pipeline to prison, and how racial profiling has made black residents disproportionately affected by police violence.
Arresting Power documents the 1985 death of Tony Stevenson, a black resident who came to the aid of a 7-11 store clerk during a robbery. When the police arrived, they immediately profiled Stevenson and assumed because he was a big strong black man that he must be the culprit.
The police placed Stevenson in a choke hold which resulted in his death by strangulation. This case was eerily similar to the recent Eric Garner chokehold case in New York. As both men lay dying, the police refused to provide medical assistance.
The Portland case is unique, and perhaps even more upsetting, because at the time there was an ambulance company across the street from the 7-11, and when the paramedics, who saw the events transpire, went to do their jobs, Portland Police officers waved them off. To add insult to injury, the day of Stevenson's funeral, the community was outraged when some officers created commemorative T-Shirts, saying "Don't Choke 'em, Smoke em."