Arresting Power Documentary Hits Movie Screen
Portland filmmakers tackle police violence
Mike Bivins | 1/14/2015, 1:44 p.m.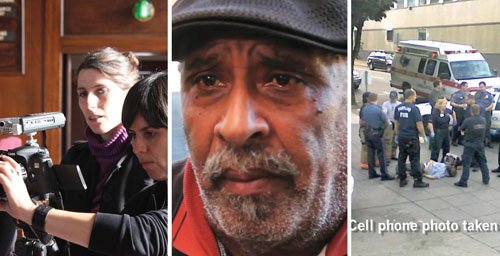 Arresting Power covers this outrageous, seemingly stranger than fiction, turn of events in detail. Whether it is Stevenson's killing or Otis' 25 years later in 2010—there is no shortage of examples of police brutality that make this exposé relevant and necessary.
Another infamous incident, which often shocks Portlanders who are not familiar with the city's checkered past, is the Burger Barn incident. Two off -duty officers who apparently had nothing better to do, loaded up a car with dead possums, and tossed them onto the front of the Burger Barn, a local black owned restaurant. Those involved said the hateful act was an attempt at police unity. The officers were never fired.
Filmmaker Jodi Darby told me that creating Arresting Power has been a challenge due to Oregon not having a lot of funding for the arts in general, and as a result, she and her co-producers, have had to hold down full time jobs while making the film.
Being a long-time Portland resident who has learned quite a bit more about the history of the Portland Police Bureau and race relations in the city, I am thrilled that this film got made.
The filmmakers set up a Kickstarter campaign to successfully crowd source $20,000 in funding for post-production of the movie. The film will premiere on Thursday, Jan. 15, at 7 p.m. in the Whitsell Auditorium at the Portland Art Museum. Tickets are $9 general admission and $8 for students and seniors.
---
On Twitter? Follow Mike for interesting tweets regarding local sports, international affairs and other random timely topics @IlluminatorMike