Black Lives and a $15 Minimum Wage
Proposal confronts poverty and racism
Teressa Raiford | 7/7/2015, 3:59 p.m.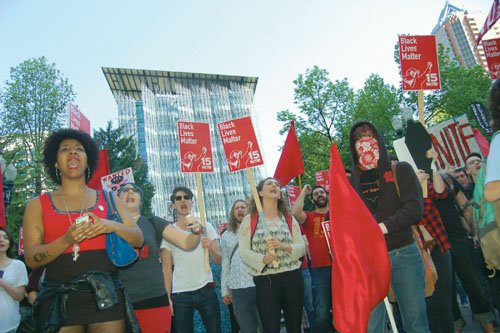 The church massacre by a white supremacist in Charleston has re-injected racist violence into the national discussion. The grisly underbelly of our country has been totally exposed by the steady stream of racist police killings, including the recent murder of Walter Scott in North Charleston. The Emanuel AME deaths serve as a tragic exclamation point.

Racist violence is not just the work of bigoted individuals. Racism and its violent enforcers were created to justify the horrific --yet profitable -- economic system of slavery that the United States enshrined in its constitution.

When slavery was abolished, Jim Crow segregation took its place, which kept black people powerless and trapped in non-union, slave wage jobs. Under slavery and Jim Crow a tiny elite flourished amidst poverty and degradation.
After segregation was crushed slave wages were maintained by other means. In her book 'The New Jim Crow,' Michelle Alexander convincingly argues that a caste system has been created in the U.S., based on a mixture of poverty, mass incarceration, and the myriads of discriminatory policies and racist attitudes that maintain a dynamic where 1 in 4 black males are involved in the criminal justice system, while 1 percent of the population lives in complete luxury.
In Oregon 41 percent of blacks live in poverty, helping ensure that the 'school to prison pipeline' will be the fate of many young people robbed of real opportunity. In communities where there is sub-standard education, few jobs, and even fewer living wage jobs, people are inevitably pushed into the 'informal economy' where police harassment, detention, humiliation and violence is waiting for them.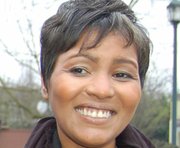 Fortunately, in Oregon there is a concrete, realistic way to directly confront poverty. Oregonians for $15 has filed a ballot initiative for a statewide $15 minimum wage, which, if passed, would lift up as many as 650,000 Oregonians.
A $15 minimum wage is a necessary first step, and should be enthusiastically supported by all groups fighting racism. It's no surprise that throughout most of the country the 'fight for $15' is a Black-led movement.

Once we pass $15 we'll feel our power. And powerful people demand better conditions. We need rent control, a public jobs program and real affirmative action that provides real opportunity.
We are in a moment where bold demands can inspire people to action, and this moment must be seized. Oregon is ready for $15 and not a cent less.