The Genius Who Powered the Beach Boys
'Love and Mercy' shows singer's darker side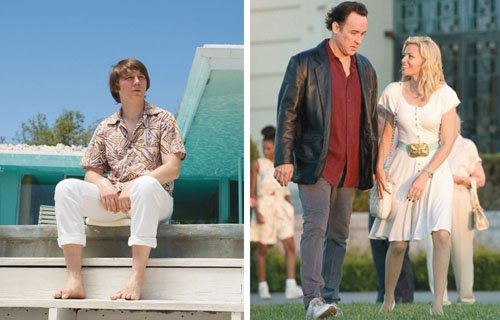 An especially complex life story both deserves and defies the telling -- which is why most biopics don't impart more than stick-figure truth. That and the additional problems that what often attracts filmmakers is the fame of their subjects, and that too many writers and directors lack the talent or will to tell a story that chooses its bits wisely and leaves room for the subject's essential mystery.
What I loved best about "Love and Mercy," the new film about Brian Wilson, the man whose genius powered the Beach Boys, is that it felt true -- deeply, complexly true, whether or not it is factually accurate -- yet also left me convinced that I don't and can't know the whole story of Brian Wilson's life. There is mystery here, as there is in every life (though maybe a little more so). This film delves, and educates, and points you toward the mystery, without pretending to solve it.
From everything I've read since seeing it, the film does get the essential facts right -- though you can skip this paragraph if you'd prefer to be in suspense, as I genuinely was. Wilson rose to success as a very young man, writing music for and performing with the band made up of his two brothers, a cousin, and a family friend. His exceptional abilities now seem particularly evident during the period in the mid-1960s when he stopped touring with the Beach Boys and focused on producing their 11th album, "Pet Sounds," which was an artistic departure into more complex and melancholy territory and is now widely considered to be one of the best albums of its era. Wilson was ahead of his time, however, and, burdened by a troubled family history and by mental illness, he increasingly medicated himself with alcohol and a variety of drugs, including LSD. By the mid-70s he had sunk into a reclusive and dissolute existence that nearly killed him.

He came out of that period largely through the assistance of a psychologist, Eugene Landy, who assumed tyrannical control over Wilson's life and finances and even his career. It was not until the late 1980s – when Wilson met the woman who eventually became his second wife, Melinda Ledbetter -- that she and others eventually helped to free him of Landy's destructive influence.
Fortunately, the filmmakers did not attempt to capture those events in an episodic fashion. Instead, director Bill Pohlad cast two actors to play Wilson at two distinct periods in his dramatic life, and uses those two periods as windows into his larger story.
Paul Dano does his best work yet as the younger Wilson, who heard beautifully inventive musical arrangements in his head which he passionately brought to life in the recording studio. The usual stage focus of most music biopics wouldn't have worked for Wilson, because his genius was most evident in cramped studio spaces --yet the film captures something of the radical originality of the ideas that flowed out of him at age 23 by breaking down the creative process into elements that help you better understand the whole. We watch him directing each musician toward the specific sound that he intends, down to assembling bobby pins inside a piano to elicit a specific timbre and barking with his dog to evoke accompaniment for "Carolyn, No."