World at War: A State Transformed
Exhibit tells of shipyards, internment and other impacts
7/14/2015, 4:20 p.m.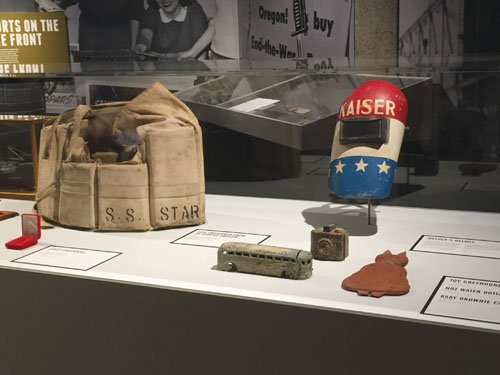 "World War II: A World at War, A State Transformed," a new major exhibition at the Oregon Historical Society, 1200 S.W. Park Ave., features rare documents and artifacts from world and military leaders including Franklin Roosevelt, Winston Churchill, and Dwight D. Eisenhower, and also shares stories of the impacts of the war on Oregonians.
The exhibit brings artifacts and manuscripts on loan from the Portland-based Mark Family Collection, including a very rare Nazi Enigma machine, the military uniforms of Gen. George Patton and Dwight D. Eisenhower, the only copy of the Atlantic Charter personally signed by Winston Churchill and Franklin Roosevelt, and a life preserver from the U.S.S. West Virginia, which was damaged at Pearl Harbor.
Letters and manuscripts provide a lens onto the many events of World War II, from prominent battles to critical political decisions. Notable documents include handwritten letters from General Eisenhower to his wife Mamie and letters from Senator Mark Hatfield, a Naval Lieutenant during the war, to his parents.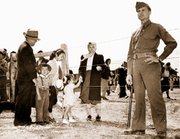 The exhibit also focuses on Oregon, a state transformed during the mid 20th century. Items drawn from the Oregon Historical Society's archives and from collections across the state tell of events that dramatically changed Oregon, including the social impact of the Kaiser shipyards, the internment of Japanese Americans, and the only World War II casualties to occur in the continental U.S.—the result of a Japanese balloon bomb.
Continuing in the museum's North Wing Gallery is a visually stunning exhibition of propaganda posters, which opened this past February. Also on loan from the Mark Family Collection, these posters provide a unique glimpse into an era before television and internet when artists and marketers were challenged to communicate to the general public in a way that would simply and enduringly convey important messages.
The Oregon Historical Society is open seven days a week, Mondays through Saturdays from 10 a.m. to 5 p.m., and Sundays from 12 p.m. to 5 p.m. Admission is $11 but free to OHS members and Multnomah County residents thanks to a generous donation from Columbia Sportswear. All United States military veterans will receive free admission throughout the run of the exhibit.