All-star Lillard Sigs as Franchise Player
Inks contract extension worth $120 million
7/15/2015, 11:13 a.m.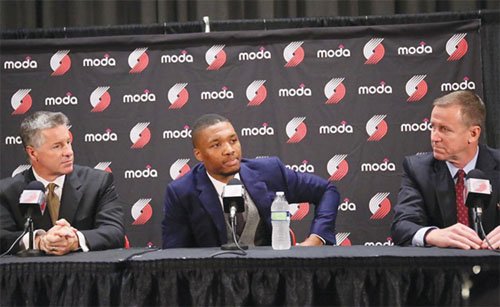 (AP) — Damian Lillard believes he's ready to lead the Portland Trail Blazers through a rebuilding project, and the franchise is hoping he can help speed up the process.
Lillard and the Blazers on Thursday completed the five-year contract extension worth more than $120 million.
"I don't really see it as pressure. I know that I have confidence in being the leader of a team, but if people want to point the finger at me if it doesn't go right right away, I can deal with that," Lillard told reporters. "I've experienced much worse things than people blaming me for losing games."
Lillard grew up in Oakland and played in college at often-overshadowed Weber State but still managed to climb to the sixth overall pick in the 2012 draft. He is a two-time All-Star and a rookie of the year and has cemented himself as one of the best point guards in a league full of very good ones.
The extension keeps Lillard under contract with Portland through the 2020-21 season and makes him the unquestioned franchise pillar after LaMarcus Aldridge, Wesley Matthews and Robin Lopez left in free agency and the team traded Nicolas Batum to Charlotte. There are no opt-out clauses for either side in the deal, which is exactly how Lillard wanted it.
"I'm not going to be one foot in, one foot out. You sign the deal and you commit to the team because that's what you're committed to," Lillard said. "I know that in my heart this is where I want to be. I didn't see the reason to have an option. We have a young team now. It might not be great to begin with or it could be better than what people think. I'm willing to deal with that. I like the challenge."
Blazers general manager Neil Olshey said that Lillard's extension is a "hell of a place to start" a new era. He said everybody from Blazers owner Paul Allen on down is committed to long-term success, even if that means a short-term step back.
"You've got to know when it's time to move forward and take another path. And this is the path we're choosing," Olshey said.