'You Matter' Basketball Clinic
7/15/2015, 4:25 p.m.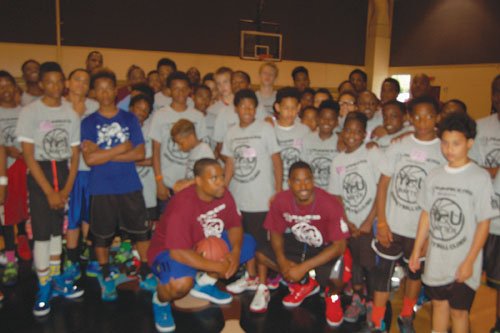 Portland's Self Enhancement, Inc., recently hosted and sponsored the "You Matter" basketball clinic presented by Playmakers 4.0, a basketball program founded by Portland natives Aaron Miles and Michael Lee that uses sports to encourage "positive plays in life and on the court".
More than ever there is a need for positive youth development in our society. Increasing drug use, gang and youth violence, and a lack of parental involvement are but some of the obstacles faced by today's youth.
The "You Matter" clinic was designed to emphasize positive police interaction and gang and gun violence prevention. Fifty males entering grades 7-9 were able to participate in basketball skill development, listen and interact with Portland police officers, complete goal setting forms, and hear from Val Polk on gang and gun violence prevention over a four hour period. The participants also received free camp t-shirts, pizza, Gatorade, and swag bags from the Portland Police.
Playmakers 4.0 would also like to acknowledge Safeway, the many community volunteers, and the behind the scenes work from SEI staff in making the first 'You Matter" basketball clinic a success!