Get Ready for Beervana
7/21/2015, 2:42 p.m.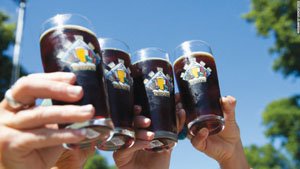 Tom McCall Waterfront Park turns into Beervana for the Oregon Brewers Festival, starting Wednesday, July 22 and continuing through the weekend. Hours are noon to 9 p.m. daily, except noon to 7pm on Sunday.
Over the five days, 89 craft breweries from North America will serve 90 different beers of numerous styles to beer lovers from around the world,
The Oregon Brewers Festival is not a ticketed event, and there is no admission charge to enter the festival grounds. In order to consume beer, the purchase of a 2015 souvenir tasting cup is required and costs $7. Beer is purchased with wooden tokens, which cost $1 apiece. Patrons pay four tokens for a full beer, or one token for a taste.
The festival also features live music, food booths, craft vendors, homebrew demonstrations and industry displays.