Historical Civil Rights Victories
Special marks 50th anniversary of Voting Rights Act
7/28/2015, 2:55 p.m.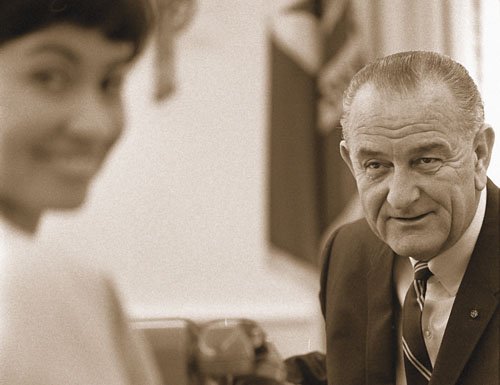 For many, President Lyndon B. Johnson is chiefly remembered for escalating the United States military involvement in Vietnam. But his legacy is much more than his role in the Vietnam War. In fact, Johnson engineered the passing of two of the most important laws Congress ever approved: the Civil Rights Act of 1964 and the Voting Rights Act of 1965.
As we celebrate the 50th anniversary of President Johnson's signing of the Voting Rights Act, PBS is presenting a special documentary "JFK & LBJ: A Time for Greatness" airing nationally, Tuesday, Aug. from 9-10 p.m.
The documentary examines how Johnson meticulously worked behind the scenes to outwit the Southern segregationists who were determined to maintain the racial divide. He cajoled, flattered, wheeled and dealed, using all the tricks he had learned as a long-serving senator, to ultimately transform America.
Narrated by Morgan Freeman, the dramatic events are told through rare archival footage and reenactments with actor Mark Murphey as Johnson and Dené Hill as Geraldine Whittington, who Johnson hired, the first African American secretary to the President.
After President Kennedy was assassinated and two days after his burial, Johnson delivered a speech that made known to America how he would ensure Kennedy's legacy:
"No memorial oration or eulogy could more eloquently honor President Kennedy's memory than the earliest possible passage of the Civil Rights bill for which he fought so long," he said.
The Civil Rights Act of 1964 is considered one of the crowning legislative achievements of the civil rights movement, but the Voting Rights Act that followed the next year changed the country forever.
JFK & LBJ details how the Selma to Montgomery marches coupled with Johnson's historic, nationally televised "We Shall Overcome" speech before a joint session of Congress on March 15, 1965, led to the passage of the Voting Rights bill protecting the rights of minorities.
Among his other accomplishments, Johnson sent a signal to America to end Jim Crow segregation by walking into The Forty Acres Club, a totally white club, with Whittington on his arm; appointed Thurgood Marshall to the Supreme Court, the Court's first African-American justice; instituted the programs of the Great Society (i.e., public broadcasting, Medicare, Medicaid, environmental protection, aid to education, the abolition of poverty) and more.