Voices from Vanport
Play recounts family histories, experiences
7/28/2015, 4:37 p.m.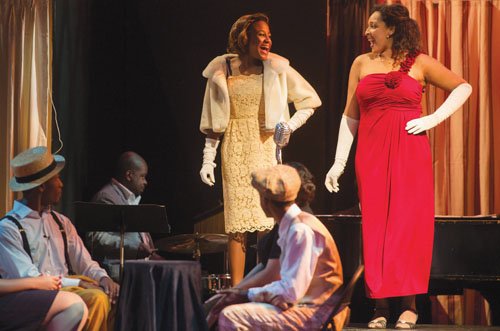 A new stage production commemorating the history of Vanport, a city located next door to Portland that was heavily populated by African-Americans before floodwaters wiped it off the map, comes to the Jefferson High School Auditorium this week.
The play, written and directed by Shalanda Sims, an Oregon-based black actress and performer, brings together folks from Pen in My Hand productions and students from Self Enhancement, Inc., the public charter school and family support organization serving Portland's black community.
The cast and crew consists of local professional and amateur adult and youth artists such as national-renown Saxophonist Eldon T. Jones, Oregon's August Wilson Monologue Competition first place winner Isaiah Sims, and the talented Jefferson High School alumna Kristin Warren.
Sims says that she wrote the play with her own family history in mind, sharing that her own great-grandmother came to Oregon during World War II to work in the Portland and Vancouver area shipyards.
"I wanted to know what it was like to live in Vanport, what it smelled like, how people felt down in their innermost being," Sims said about her inspiration. "The answers came from my mother, grandmother, and other natives like Mrs. Regina Flowers who grew up in Vanport and Ms. Stell who was one of the first women workers there."
The more local sources shared, the more Sims says she understood about Vanport and the more she felt the story must be told. She took on the task of writing the play, and the final production is now ready for Portland audiences.
"Vanport" runs at the Jefferson High School Auditorium from Thursday, July 30 through Saturday, Aug. 1, with shows beginning at 7:30 p.m. every night. Tickets are $15 in advance and $20 at the door. To buy tickets, visit the Jayah Rose Salon & Spa at 12 N.E. Shaver St., or go to brownpapertickets.com/event/1751794.