Futsal Court Enhances Park
Brings version of soccer on smaller scale
6/2/2015, 2:24 p.m.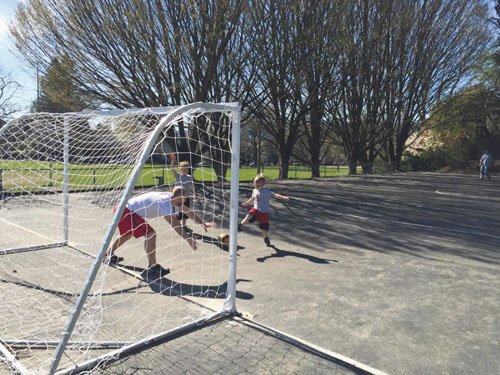 Portland Parks and Recreation and Operation Pitch Invasion, a group dedicated to improving and maintaining soccer facilities in the Portland area, dedicated a new futsal court, a version of soccer played on a smaller scale, at Colonel Summers Park in southeast Portland Saturday.
The court is entirely the result of volunteers from the soccer group who wanted to enhance the park, located at Southeast 17th and Taylor, officials said.
"The dedicated volunteers of Operation Pitch Invasion are a key part of why our city has such a high quality of life," Portland Parks Commissioner Amanda Fritz said. "Portland Parks and Recreation can only do so much by ourselves. But when you add in nearly half a million volunteer hours a year, the possibilities are amazing – and evident, as with this court."
The city has tried to make the park more accessible over the past couple of years by reducing underage drinking and loud unpermitted gatherings taking place there. Workers from the parks bureau have removed damaged benches and picnic tables, trimmed up bushes and trees, and conducted a neighborhood park clean-up. Neighborhood volunteers have repainted structures, and the city bolstered the presence of park rangers and police to make it clear that illegal activity will not be tolerated.
The Colonel Summers Park futsal court is available for open play every day; or to reserve it, call the PP&R Customer Service Center at 503-823-2525.