Theatre for Real Life
Confronting stigmas of homelessness and addiction
6/2/2015, 4:49 p.m.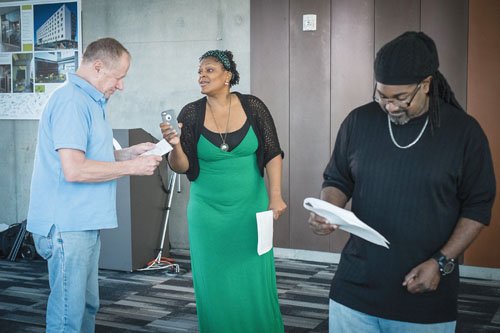 Participants in Living Stages ' Theatre for Real Life' artist residency at Bud Clark Commons will present "Hurry Up and Wait" a performance of two original interactive forum plays reflecting the challenges low-income community members face in accessing healthcare services, and dealing with the stigmas of former homelessness and addiction.
The event will be held Thursday, June 4 at 4 p.m. in the Bud Clark Commons Day Center Multipurpose Room, 655 N.W. Irving, and is open to the public free of charge.
The performance will feature theatre created and performed by formerly homeless community members, and offer the chance for audience members to actively engage with the issues presented in the play by stepping onto the stage to suggest ideas and possible actions.
Since September, over 60 low-income participants engaged in Living Stages' Theatre for Real Life program, with the majority of participants in transitional housing or formerly homeless.
The two plays created, "Take a Number" and "Inequities in Healthcare: the Haves, Have-Nots, and the Story of Brittany Pumpernickle" were created during the workshop process and reflect the cumulative experiences and stories of a wide number of program participants.
Living Stages is a Portland-based 501c3 arts organization committed to the practice of interactive theatre as a process for community engagement, action and transformation. This public presentation culminates Living Stages' year-long artist residency at Bud Clark Commons, funded by the City of Portland, Percent for Art, in partnership with Home Forward and Transitions Projects, and administered by the Regional Arts and Culture Council.
Living Stages was selected out of 9 community-based arts organizations in a competitive process for this artist residency, with the goal of engaging the community at Bud Clark Commons in the art of theatre creation and performance.
"Ours is an unfinished theatre" says Living Stages Creative Director, Tamara Lynne. "As long as social injustice exists, we present our questions and our struggles— and then rely on our audiences to come up with ideas to transform the outcome of our play. Our hope is that the theatre inspires action not only on the stage— but also in real life."
For more information, contact Living Stages at teatrocambio.org or email tamara@livingstages.org.