Unshackling an Imprisoned Soul
'Marie's Story' resonates for its victory over crushing defeats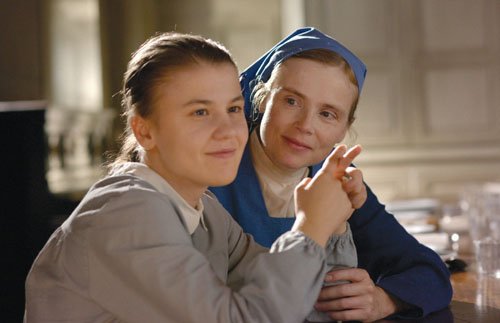 It's a good thing that I saw "Marie's Story" at the Portland International Film Festival without paying attention to the judgment of American film critics. Reading those, I'd have expected a treacly and manipulative depiction of a clichéd hard-luck story with nothing to add to "The Miracle Worker," the 1962 film about Helen Keller. I likely would have skipped it, and missed an opportunity to be deeply moved and inspired.
The film is based on the true story of Marie Heurtin, born five years after Helen Keller in Vertou, France. At the beginning of the film's depiction, Marie has lived the first 14 years of her life with parents who love her but have not managed even to give her a bath or comb her hair, as they have no way to communicate with their blind and deaf daughter. She is brilliantly played by a young deaf actress who captures the sense of the crudeness of Marie's inner life, driven only by what she can sense and touch.
Her father has driven his feral daughter to a convent school for deaf girls in hopes that they will assume the burden of caring for her. He is disappointed when they refuse -- but one of the sisters, a consumptive nun named Marguerite, has an encounter with Marie that leaves an impression. Long after Marie's departure, the sister cannot shake the sense that she is called to unshackle Marie's imprisoned soul. I appreciated the care with which the film depicted how one experiences such a calling.
Like many who have experienced such callings, Marguerite is convinced of the call but has no real idea of how to achieve it. She also must overcome the perfectly logical objections of someone whose guidance she respects, her Mother Superior. When the Mother Superior finally relents in the face of Marguerite's conviction, Marguerite approaches her work with fervor and joy, only to experience long months filled almost exclusively with crushing defeats. Marie thrashes and flails and resists all attempts to direct her. It is obviously fear that drives Marie, but that hardly lessons Marguerite's mounting frustration and despair.
I can scarcely imagine an American film even attempting to tell such a story with enough patience to capture what this film conveys profoundly: That it is possible to have correctly discerned that one is called to do something of life-changing importance, and yet to experience nothing but failure in response to one's sincere and diligent efforts, and for a long enough time that there is a real possibility that you will not succeed. This film imparts Marguerite's struggle well enough that I practically had to persuade myself to not give up on watching it! Marguerite must endure not only Marie's blows but the knowledge that she is burdening her community for months on end, with no evidence that Marie is even reachable.
But as I told myself while watching it, Marguerite does succeed or there wouldn't be a film at all. And because the film has captured enough of Marguerite's struggle to make you feel actual gratitude, it also imparts how momentous Marie's breakthroughs are for both teacher and student. It struck me that work this important is frequently difficult in just this way -- it is persistently and relentlessly impossible, until it isn't.