U.S. Army Sgt. Henry Johnson of the 369th Infantry Regiment.
Obama Makes it Right
6/3/2015, 2 p.m.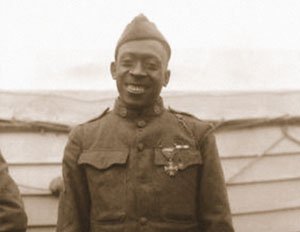 (AP) — Declaring it's never too late to make things right, President Barack Obama posthumously bestowed the Medal of Honor on two World War I veterans whose heroic acts nearly 100 years ago went unrecognized in an age of discrimination.
In a tearful, joyful East Room ceremony recalling the battlefield triumphs as well as the prejudices of 20th century America, Sgt. William Shemin and Pvt. Henry Johnson were recognized Tuesday with the nation's highest military decoration for saving their comrades on French front lines. Shemin was Jewish and Johnson was black.
"It has taken a long time for Henry Johnson and William Shemin to receive the recognition they deserve, and there are surely others whose heroism is still unacknowledged and uncelebrated," Obama said.
"The least we can do is to say we know who you are, we know what you did for us, we are forever grateful," he said.
Obama applauded the tireless efforts of their advocates, which included Portland city Commissioner Nick Fish and the Skanner's publisher Bernie Foster.
Veterans of Johnson's New York National Guard regiment, the 369th known as "Harlem Hellfighters," watched stoically as Obama described how he died destitute in his early 30s after his injuries left him crippled and unable to work.
"America can't change what happened to Henry Johnson," Obama said. "We can't change what happened to too many soldiers like him, who went uncelebrated because our nation judged them by the color of their skin and not the content of their character. But we can do our best to make it right."
Obama described how Johnson and a fellow soldier came under attack by at least a dozen German soldiers while on night sentry duty on May 15, 1918. Both were injured, but Johnson single-handedly beat back the invading party and rescued his unconscious brother in arms, armed with just his Bolo knife after his rifle jammed.
Obama said it similarly took too long for America to properly honor Shemin, who served at a time when the contributions in heroism of Jewish Americans in uniform were too often overlooked.